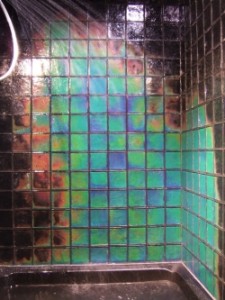 Check out these amazing temperature sensitive glass tiles. Their website has a number of pretty funky uses for them but I think my favorite is the shower setup. Definitely like a mood ring for your walls, they'd probably make an excellent kitchen backsplash. The only downside? At $33 for a 4×4 tile, I'm looking at $18,000ish just to do my tub surround, doing my whole bathroom would be more like 35 grand.
Check out the website here, hat tip to MentalFloss
If you're like me you're probably excited about the upcoming Tron Sequel, especially after the latest trailer. It honestly looks like they may have been faithful to the original yet expanded the idea. Even if you're not a massive Tron fan, the one thing you likely know from the movie is the lightcycle concept and the accompanying visuals. The NightBright Tire is ostensibly a safety item, but I think we all know where the inspiration came from and the real reason they sell them: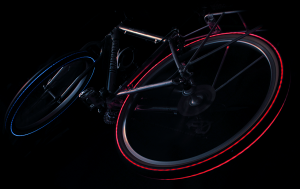 Lastly, if you're a Tron fan with some money to waste, why not consider a functional, road legal replica of the lightcycle from the upcoming film. Only $35,000 USD will get you a custom built lightcycle in one of five colours. You can even have your choice of gasoline or electric engine for the thing. From the ebay page:
The back cover opens up at the push of a button and there is a neon glow that exits from the back of the bike to resemble the lightcycles colored light trail from the original game. These bikes will also come with a TRON style helmet (Not DOT Approved)
Amazing, and since these guys are the guys that did the batpod replica I can see it actually being built too.