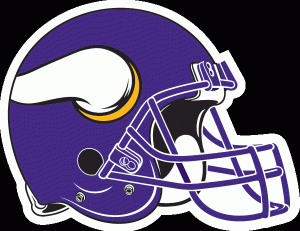 So the Favre saga is over for another year as number 4 is back with the Purple and Gold for one more (dare we say last?) run at a Super Bowl.
As a Vikings fan, I have to say I'm pretty happy he's back. Even though his stupid throwning error at the end of the NFC Championship Game last year cost the team a Super Bowl appearance (I don't think Longwell would have missed from where they were if he'd just done a hook slide) they certainly wouldn't have been there without him. I can't blame the guy for trying to make it more of a sure thing, I just wish he'd thrown it out of bounds. Many Vikings fan just believe that the team is cursed to never pass the conference championship again. The year prior to signing Favre, the Vikes had stumbled around with Gus Frerotte and Tavaris Jackson in a battle of who could provide the least amount of support for Adrian Peterson's power rushing attack.
Suddenly with Favre the missing piece was there. Favre still had his head for the game, his strong and accurate arm and some spectacular receivers. More importantly, he had arguably the game's best rushing tandem to present another threat and take some of the pressure off him when he was tiring. Favre looked like a little kid in a lot of the games last year, celebrating with guys half his age touchdown after touchdown. I was there in the Metrodome for the 34-3 pantsing of the Cowboys in the playoffs last year and you really couldn't tell that the guy was over 40.
So what will this year bring? Who knows? I certainly think the Vikings have a shot at a Superbowl appearance. Hell, even non-vikings fans should be cheering for the vikes. Maybe, just maybe if Favre won another Lombardi Trophy he'd retire and stay retired.