Day 4:
Early start this morning, 6:30 wakeup to hit the road at 7:30 and back along the wild slide from side to side road. Today we were heading to Rotorua, a beautiful town nestled on the side of a volcanic cone lake. Along the way we passed a few sights such as a giant L&P bottle and some gorgeous hills and mountains. We passed the town that was the headquarters of the LOTR filming for Hobbiton, but did not take the tour out to the farm. You can definitely see a lot of the Fellowship scenes around here though, everywhere you look is a sweepy expanse of green or a mountain pass covered with roiling fog. Much like Queenstown in the south, Rotorua is an adventure sports capital. Upon arriving we were taken for a tour of some of these, including a bungee, swooper (like the thing at the Ex), a concrete luge and other options. Most of us already had something in mind.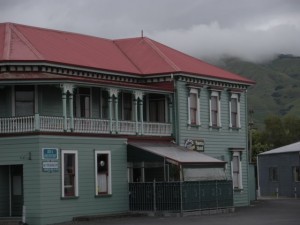 Our actual activities for the day started in a Maori village build around a thermal area that was essentially a mini Yellowstone. It's a real working village but they let visitors in from 8-5 to look around. Steam rises everywhere and that lovely yellow sulphur haze and smell spreads everywhere. The Maori here often cook food in steam ovens  connected to the vents. Our lunch was chicken, corned beef steamed in one of these ovens as well as some vegetables bagged in cheesecloth and dropped directly into a hot pool. The desert was the high point of the meal for me as they served steamed, brit style pudding with mango pears and cream. Everything ended with a great Maori dance show that was similar to the one I'd seen before, but with some new elements.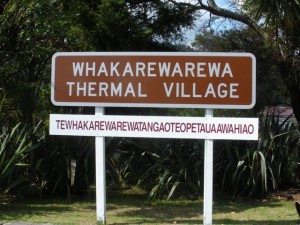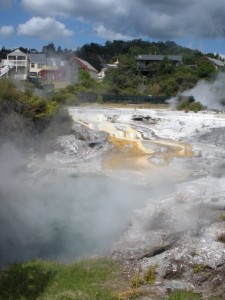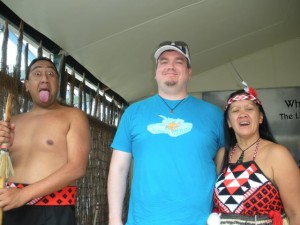 I'd been looking forward to the afternoon for quite a while though, a short but fun rafting trip with some killer drops including a 7m plunge (photos to come once we get them off the photo CD we bought.) In some ways it was a bit disappointing due to the short length, I'm certainly more used the 3 hour type trip. The drops made up for it intensity though, several of them being of the type where you have to PADDLE PADDLE PADDLE then throw yourselves down into the boat. As usual being a big guy who can paddle I was put up at the front and I'm fairly sure at the bottom of the 7m plunge I was a solid 10 feet underwater.
Group dinner at the Fat Dog cafe followed, tasty food in enormous portions. (as pictured below) Most of us are now so wrecked though that we're lying near comatose in bed at 11pm here. Definitely no update tomorrow as we're out in a national park campground, but I'll be doing some whitewater Kayaking that will hopefully make up for the missed one.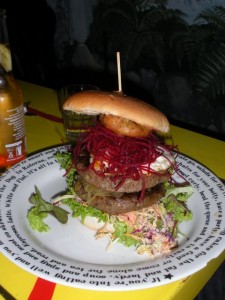 Kia Ora everyone!