Sadly this morning was time to say goodbye to the comfy beds and actually pack my big bag again as we departed. Annoyingly some time between arriving back at my hut after brushing but before I took out my big bag my key disappeared and I was eventually forced to give up looking for it and pay them $10. Of course I found it later this afternoon, but may or may not be able to get my cash back as it likely depends on E.T.
Our morning routine was interrupted by the young german couple declaring that they'd forgotten something and forcing the bus to turn around 15 mins into our drive. Most of us scampered out to just wait on the side of the road and toss a rugby ball around, but it turned out we'd stopped in the middle of a half-marathon on a very nasty hilly course. After tossing the ball around a bit we stopped in our tracks as we heard the unmistakable drone of a bagpipe. Sure enough there was a piper playing everytime a runner came into view at the summit of this massive hill: Kiateriteri. Niall is of the opinion that it was to speed them on running away, but the pipes would certainly lift my spirits.
Once E.T. and Princess (the new bus) arrived we were on our way, picking up Marco, Evy and some lunch then on to another national park for a lunch stop. This was Nelson Lakes N.P. a beautiful spot that reminded me of Waterton or Lake Louise in many ways. As we sat on the shoreline eating our sandwich we were all accosted by a bunch of ducks and one large black swan that were so obviously tame that they'd practically climb on your shoes if they saw you eating. As if this wasn't enough for yours truly, New Zealand honeybees apparently have a thing for Teal and blue and they would not leave me alone as I sat around in my Fish Tank shirt. One of the girls on the tour named Lisa was wearing a hoodie in a similar color and spent most of lunch running around flapping her arms. I finally escaped them by heading out onto the dock and watching the massive freshwater eels swimming around. They figure many of these things are absolutely ancient and blind and a large number of them live underneath the dock and boat ramp. At one point we counted around 30 at various areas around the dock.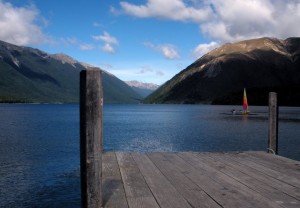 The scenery this entire day was absolutely breathtaking. Strings of mountains lay on either side of the narrow roads, bubbling rivers and gaping canyons. One thing about New Zealand that can still give me heart attacks is the vast number of one-lane bridges, even on otherwise fairly normal seeming roads. Many of these are even hidden around blind corners so you really have to watch for the warning messages. I suppose our drivers know this route down pat but on occasion they can be really scary and I have to wonder what some of these supposedly mega-popular spots for locals are like in summer with the roads busier.
We stopped a bit later in the middle of Lewis pass as we approached Hanmer Springs and took a few shots. I should mention that we're now travelling with a professional photographer who's taking shots for both Lonely Planet and next year's Adventure Tours brochure. Never know, there's a small chance you may see me in the brochure next year. At this stop he got us to take a few action shots again tossing the Rugby Ball around in front of the bus.
Hanmer Springs itself is a very touristy town with a few streets of hotels, hostels and chic resorts interspersed with cafes and souvenir shops of various quality levels. It reminds me very much of Banff or West Yellowstone and apparently in the past was well known as a rehab clinic area. It's now popular as a ski destination in winter, and in summer for various adventure sports (though if there's a region in NZ that doesn't have some form of daredevil pastime I haven't seen it yet.) The main attraction for many is the eponymous springs which take the form of a fully developed hot pool park (as well as several waterslides.) Again think a much more built up Banff Hot Springs, or more accurately imagine if they expanded Radium. A few of us did the hot water slides, the best of which was a tube ride with the sort of toilet bowl approach swirling around and around and around. Quite fun and all the better for being warm. Mostly I just rested the old ankle though.
Our accommodations here are quite extraordinary, essentially ski chalets with a living area, several bedrooms and a tiny kitchen. Our guide even frankly admits that they make everywhere else we stay kind of look like crap. We're actually up on the hill here and even without sitting out on the now chilly balcony I can look out across the lights of the valley scattered below. It's very pretty and entirely relaxing.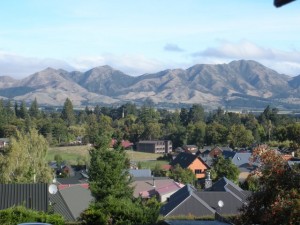 As I write this it's about 10:30pm local time and I'm not entirely sure when I'll be posting this, probably tomorrow night. We've all come back from the pools and we're kind of wiped, I'm not really sure how much later we'll be up or for that matter which of the internet signals belongs to our accommodations here. I'd rather not be giving my credit card number to someone random though so this may wait for tomorrow. Apparently the "moon man" has predicted an earthquake for New Zealand tomorrow so hopefully it's not near us if so.