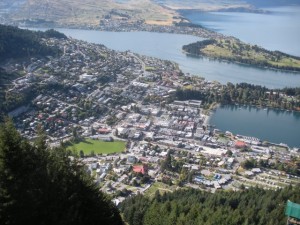 Our trip to Queenstown was gorgeous yesterday morning. Because we're a smaller bus we're able to do some of the mountain passes that the big motorcoaches can't. As a result we came down from the very top of the mountains down into the Gibson valley with a fantastic panorama laid out below us. We made a stop-off at the original home of the Bungy Jump and watched a few people take the jumps. Marco booked a big jump on the Nevis that he went and did later that afternoon. Andrea, Niall, Debbie and David all booked a fly cruise fly to the beautiful Milford sound area. I was incredibly tempted as the weather was beautiful, but it cost around $400 and that's a good portion of a round trip to Fiji or Thailand if I want to do that later. They said it was gorgeous. I've heard the Doubtful Sound trip is as good though and that's part of our tour (though we drive there) so I won't be too regretful.
Once we got into Queenstown we settled into our quite nice accommodation then went to explore the town. It's a very touristy little place, tons of people of every nationality. David pointed out that he wasn't sure if he'd been served by a native Kiwi yet when we walked about this afternoon, I think he was right until we hit the supermarket.  We had a pretty questionable $3 bbq at a bar before moving to a different bar to close out the night. As part of the night's activities there was a "horizontal bungy" where teams of two had to get drinks and chug them… bizarre. Overall the place reminds me a bit of Whistler or the Okanagan.
This morning we headed up the gondola and did 5 runs on the "luge" go-carty tracks. Very similar to the few that are out in the rockies if you've ever done one. Hilarious photo to come tomorrow. Great views of Queenstown and the lake from above. So far this afternoon we've headed over into the botanical gardens and seen their Frisbee golf course (sadly the rental place seemed to be closed) and checked out Fergburger, considered by some to be the burger in the world. I have to say it was pretty good, and any place I can get brie on my burger is pretty choice.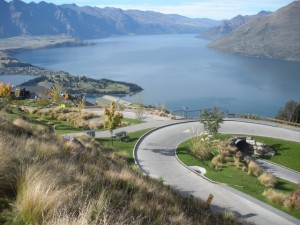 At the moment us boys are back in our room unwinding a bit before dinner. David and Niall are doing a canyon jet boating excursion tomorrow while I'm trying to decide between a few options. Unfortunately it may rain which will limit things.