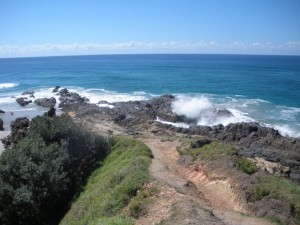 Sadly the weather turned for the worse the next day with grey skies blowing in from the sea and keeping things cool during the day.  I still took the chance to go out boogie boarding, but it was a much shorter trip given the temps. When I eventually got back around 2:30 the Germans were only just stirring. I ended up spending most of the rest of the day browsing the town then reading a book by the pool before heading down to the beach again for a beer or two later on with Sabina.
My wonderful german roommates got back very late that night, not sure when but I'm fairly sure it was post 3AM.They continued their lovely trend of flicking on the light and talking loudly for 15 minutes so I didn't feel too bad about making noise when I got up at 7:30ish to get ready for my bus. As usual I ended up at the bus stop far too early, but it's always nice to feel safe about it. It was just a short trip up to Surfer's Paradise on the Gold Coast which is just southish of Brisbane.
Surfer's is an odd place, a very Niagara Falls feel about some of it, fancy pants shops in place mingling with Ripley's Believe it or Not types things and a casino. A sudden cluster of high rise apartment and hotel blocks sit on a variety of islands and it all faces onto a long strip of beaches along the gold coast. Absolutely gorgeous sand and waves and the strip seems to go on forever.
My hostel was actually a bit north of the main part of town next to a couple of quite swanky resorts and a mall for them which doesn't exactly lead to a lot of cheap food choices (or a proper supermarket.) I did once again find a fisherman's coop and got some delicious prawn skewers (Lemongrass and Thai Chili.) The hostel itself was much nicer than the Cape Byron one, probably the same amount of space for 4-bed rooms that there was in 10-bed at Cape Byron. No sign of my roomies when I arrived, but a solid locking cupboard always helps. This hostel also provided free boogie boards so I went out and tried the waves but they were quite confused with some rips pulling you down the beach so I didn't stay in long. Just as well too as it started pouring off and on the rest of the day.
The worst was to come the next day though as the rain was intense. A few of us braved the weather and hopped on the shuttle bus to head downtown. Even with my raincoat on I was drenched to the bone within minutes of getting out of the van. It turned out to be mostly a wasted trip though as there wasn't much to do in that kind of rain other than shop and I'm hardly in a place financially or storage wise to do much of those.  The one positive was finding a remaindered book sale and picking up 3 books at $5 a pop, $5 is insanely cheap by Aussie standards so I was pretty happy to restock some reading material.
Eventually I gave up on the excursion and headed back to the hostel to wait for my friend David from the Adventure Tours NZ group. He's currently living in the Gold Coast area in between various side trips over here. Unfortunately that made for a very cold wait in the common room as it was open on the marina and front ends so it created a very cold wind tunnel through the whole room. Poor David was just returning from Sydney through and got what sounds like a wild ride through the storms, he described it as potholes in the sky the whole way back. Once he was safely home he came to get me at the hostel, thankfully not a long trip. We pretty quickly called it a night.
It's been really nice having the chance to cruise around with David and get off the old Greyhound track a bit. Being locked into the tourist track makes it a little hard to check out some of the more remote places. Sadly the weather hadn't improved much beyond the rain going from solid and driving to intermittent. We took a walk along the inner broadwater area the next morning but eventually dove into a mall and hit the movie theatres to take a break from it. Overall it was a lovely relaxing day and the chance to curl up and watch a bit of tv and catch up with a friend was fantastic after a few weeks of quick departures.
Today we headed up to Springbrook National Park and did a few great walks. After a quick lunch we headed down to Natural Arch. Gorgeous little walk out to a waterfall that has carved a hollow out into an archway. You can actually walk right down into a cave where we saw a ton of bats flying around feeding. Next up was "Best of all Lookout" an overlook at the Queensland/NSW border where we could  look down into New South Wales from the rim of the old volcano that makes up the area. It was a gorgeous view, but the clouds were quickly rolling back in. Our last walk of the day was to Purling Brook falls, a bit of a longer walk with a lot more up and down but with a gorgeous waterfall that you actually get to walk behind. I also got to check a Wallaby off my aussie wildlife list as a little reddish grey buddy was sitting on the edge of the road as we drove back.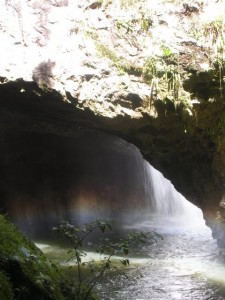 Oops, actually… before heading out to the parks we went up Q1 which is the tallest (or one of the tallest if it's been passed by Dubai) residential only buildings in the world. Fantastic views up and down the beaches and off towards the hills we'd soon be visiting in the parklands.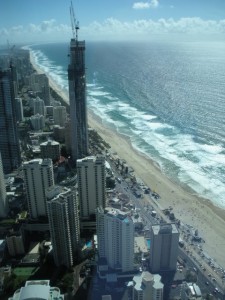 We also took a spin around some of the swankier islands with giant homes. We particularly liked this one that was for sale, comes with a nice sheltered mooring for your multi-million dollar yacht: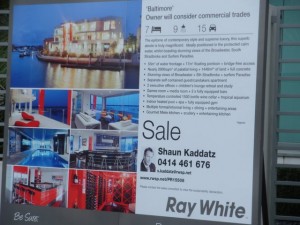 I made us some Spring Rolls and Peanut Thai Chicken Noodles for dinner and now we're both trying to write but neither of us are feeling creative so full of food after a good walk.  Well that and the excitement of some laundry tonight… woohoo!