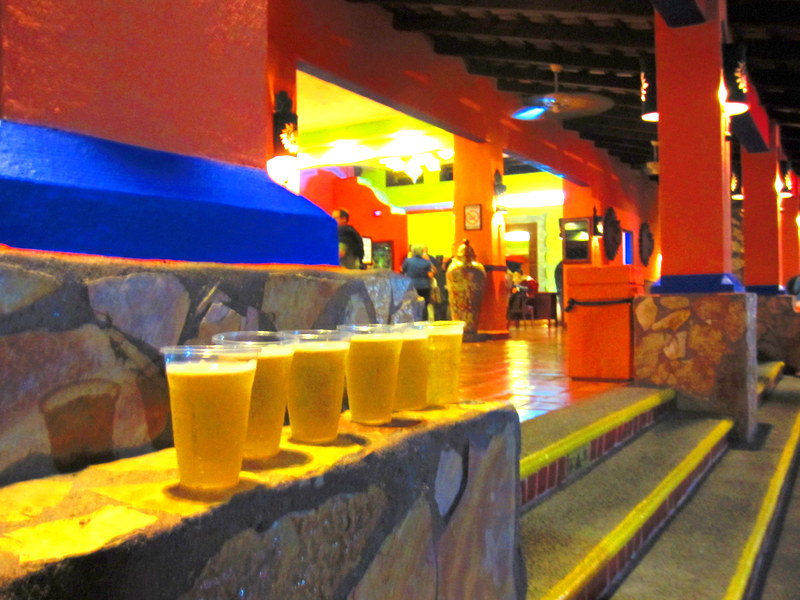 Words can't really describe the unending horror of this winter. As I write this post the temperature is hovering just under the zero and there is a strong chance of flurries at some point over the coming weekend. It is April the sodding 11th, what exactly did we do to deserve this torment? It was inevitable that this winter would be feel harsh after the mild reprieve of 2013, but months of -30 temps and snow quite possibly lingering in spots until May seems like massive overkill on the part of the weather gods.* Is it any wonder then that I was looking forward to this Mexico trip with a slavering anticipation that approached apple fanboy at a new product launch levels?
Anticipation of warm weather, sun and girly drinks (and parlor games) aside, early morning flights are the devil. 4:15 AM wakeup, at the Airport at 5 for an 8 AM flight (also not really necessary imo.) I must say my first experience of the new airport was a mixed bag as well. Everything's very pretty but also very stupidly laid out. Only restroom in the departure area is at the far opposite end of the hall from the security entrance and the Stella's café that many people have breakfast at pre-security. This means everyone uses the private stall family restroom located here instead of what it's actually for. There's plenty of space for another restroom here but the architects went for style over substance. Oddly enough I ran into my friend Kymberly leaving for another destination wedding at the same time in PV. I'm fairly sure she was even more of a zombie than I was at that point though. The flight itself was quite surprising. I hadn't flown with Air Transat in probably fifteen years and I was really surprised to walk on to an A310. As far as I can remember it's the only time I've flown on a widebody out of Winnipeg direct. A quick check of Wikipedia tells me that they're planning to phase out their A310s by the end of next year as well so I suppose I'm way behind the times. I definitely missed having the seat back tvs of all my other recent trips, things are obviously never going to be Air NZ or even Westjet quality on a charter airline though.
"…watching the cormorants wheel about as the waves crashed was such a perfect moment of stress release."
Air Transat being a cheapass charter flight, there was no chance they'd spring for a jetway in PV. Sure enough we ended up offloaded onto buses and us lucky few in the middle of the plane ended up last to unload as they opened doors at both ends. I've rambled on nonsensically about my love for the ocean on other posts here so I'll spare you that, but getting off that airplane and smelling the sea breeze rolling in sent a shiver of delight through me that was rather primal. Unfortunately with the adventures of Mexican immigration, the stoplight baggage check system and a 30 minute bus ride (after the time share gauntlet) meant it was a solid two hours until I actually got to see it up close. Getting onto the beach with a dos equis in my hand and watching the cormorants wheel about as the waves crashed was such a perfect moment of stress release. My cares melted away instantly and I wondered yet again why I don't find a way to live someplace like this.
The resort itself was a pleasant surprise. When I'd heard how massive the place was (six blocks of rooms, each the size of a decent small hotel) I was expecting a "slice of America in mexico"** style place with not much charm. Instead I found a really quite pleasant almost villa setting. More or less each block had their own bar and pool, one could augment the buffet restaurants by reserving in one of five or six a la carte places. The beach access was a broad stripe of decent sand with palapas and chairs, not a narrow slice where you had to be up at 7am to get a spot. Mostly it just wasn't fancy. That's not to say it was slummy or cheap, but it was nicely simple. Rooms were spotless and pleasant, everyone had a balcony or patio and the staff were all incredibly friendly in what seemed to be a genuine way. Most spoke pretty decent English and would joke around with guests in a way I haven't really seen on previous Mexican trips. Part of this vibe was also the fact that it wasn't just us pasty northerners as guests, a fair number of Mexican/Latin American families were spending their vacations at the resort as well so you still heard a fair amount of Spanish even when just relaxing by the pool.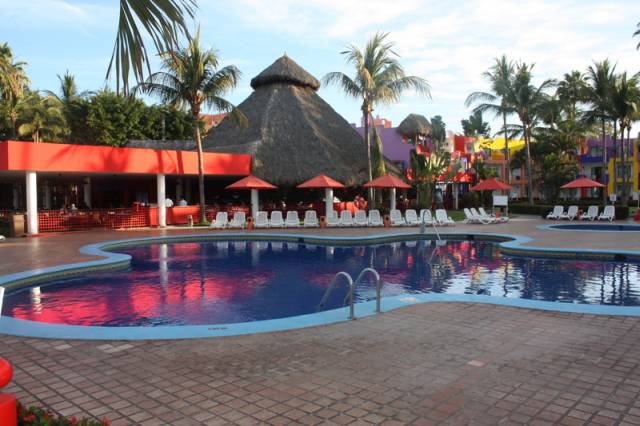 The first couple days were great. I reconnected with some old friends, got to start each day with a wake up ocean swim and drank pretty much every girly drink on the bar menu. I actually neglected to mention that they gave us strawberry margaritas before we'd even checked in and that the bride and groom had provided reusable insulated cups for said frosty drinks in our care packages. That's what I call planning guys! Of course (along with the wedding what I was really looking forward to was our dive in the bay.
But more on that soon (once the diveleader posts her photos.)
*Klaus and Jimmie
**I have a friend who once went to a resort somewhere (Acapulco I think?) that had a lunch counter that was called something like McSnack and served as close a reproduction to Maccas fries and burgers as they could. To his everlasting shame as an American it was literally always busy while the amazing burrito stand was deserted.