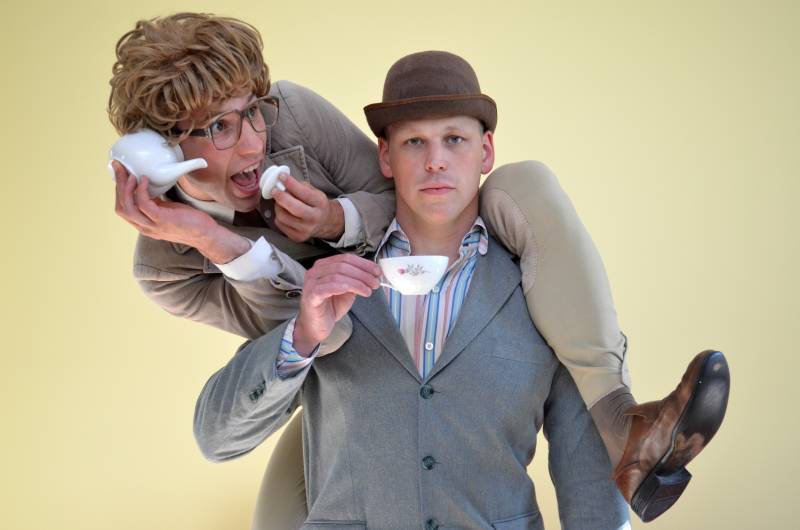 Unlike Friday's rainstorm which very intense but brief enough that people came back out, last night's constant drizzle is the annoying rain that can really hurt Fringe attendance. Hopefully everyone grabbed their umbrellas and still got out there.
I realized the other day that I'm most likely not going to see anything at Warehouse prime for the first time in ages. There's nothing that has really leapt out and grabbed me from the schedule there except for the early and impossible to get into God is a Scottish Drag Queen sequel. Speaking of which it's a pity Mike Delahunt had to go because it's shitty to see that gap his show left in what is arguably the fringe's best core venue.
In other curiosities, is venue 19 a BYOV after dark? I get that it's the kidsfringe during the day but only having two shows in the evening in what is a reasonably comfortable central venue seems like a waste to me. (though I suppose they could really only add one more primetime show.)
High Tea (Venue 19, School of Contemporary Dancers)

That last question came to mind of course because after failing in my quest to see Two Ruby Knockers… (simply couldn't get away from work to get in line early enough) my first show of the evening was High Tea at Venue 19. James and Jamesy's Two for Tea was a breakout hit last fringe despite being in the terrible Son of Warehouse venue. Despite their short holdover I wasn't able to make it though and thus was eager to check out their second tea-based adventure.
I'll admit, after a terrible day at work I just wasn't feeling it at first. Though I thought they were great performers I wasn't really in the mood for something 'cute.' Luckily my grumpy brain was pretty quickly overwhelmed by the sheer commitment of their performance and by the end of the show I was completely drawn in to the fantastical journey into a world flooded by tea. The energy of the show just keeps building until the chaotic climax sends the audience into a frenzy. That said I'm glad I declined the offer of tea on the way in as I had to occasionally laugh at people either holding empty teacups awkwardly or carefully trying not to kick them once they sat upon the bleachers.
Nashville Hurricane: A Curious Tale of Fingerpickin' Fury (Venue 16, PTE Mainstage)

As previously mentioned in this space Chase Padgett was one of last year's other breakout stars. MTC even brought back his '6 Guitars' show as a fringe fundraiser this spring. I was curious to see if he lived up to the hype but when I emerged from High Tea and it was raining I knew it was questionable if I'd make it. I had already guessed that my chances of getting back to my car, parking at Portage Place and getting a ticket in time were about 50/50 for such a popular show adding the allure of a venue where one doesn't have to wait in the rain was going to make things much tighter. In the end I lucked into a street parking spot right by the mall, ran up both escalators and hustled past a few more slowly walking people to get literally the final ticket for sale that night (and finishing off my Frequent Fringer in the process.)
Once settled down to wait I found myself laughing yet again at the melodrama that is PTE at fringe time. The design of the mall admittedly forces a rather stupid setup on PTE itself and the long narrow 'lobby' for want of a better word is far from an ideal setup for plays. Despite this I cannot help but be amazed every year as the fact that there are sometimes concurrent lines for the two Fringe venues in PTE completely destroys (usually the older) people's minds. While I was grabbing my ticket a woman came out, grabbed the team leader's arm and started asking when he was going to come make sure people were in the right lines because it was 'anarchy.' Keep in mind there was at least 40 minutes before the next performance of any kind at this point. The same woman was still flitting about an hour later when I finally got into the actual line for Nashville Hurricane and it was all I could do not to laugh at the various people completely flustered by every part of the experience. I couldn't help but wonder how they'd manage at one of the venues I went to at the Edinburgh fringe that had at least 8 venues in one building with their attendant lines and a large busy bar.
In the end the show itself was everything it was hyped to be. Padgett is one of those annoyingly multigifted people who can convincingly play all four diverse characters of his play while still able to play guitar at a level I can only dream of. The story follows the life of a gifted youngster as he finds himself the pawn of first his trailer trash mother, then a huckster talent agent before his eventual escape to a life on the road with a blues musician. Padgett manages a variety of accents and dense dialogue with aplomb and still manages to incorporate some back and forth with the audience without losing stride. The guy is just ridiculously talented.
If you're hoping to catch the show you're probably best off grabbing advance tickets for Tuesday or Thursday as I believe at this point advance tickets for all the earlier shows are all gone. If you're going to try to grab door tickets be early as they were gone around one hour before show time last night.
Overheard in line (day 6): "WHEN are you going to get in here and organize things" (Think Helen Lovejoy level of hysteria)
Highlight of the Day/Recommendations:
Both shows listed above were fantastic.
Leaflets/handbills rec'd: 71 (almost at the halfway point for total shows!)
Up Next:
Hoping to catch Anatolia Speaks right after work.