Leaving Krabi was a relatively leisurely experience. Already knowing where the ferry dock was (a 5 minute walk away even with my pack) helped, as did the fact that the boat didn't leave til 11:30. The boat itself was thankfully not overpacked and before long we were heading down the river/inlet out onto the sea. As we headed out we passed several other docks and a number of brightly painted fishing boats both in the water and several that had foundered and been abandoned. The wrecks seemed repairable so maybe they were relatively recent but I was rather puzzled. Once out on the bay we could see Phuket in the distance as well as the party haven of the Phi Phi islands before turning south for Koh Lanta via brief stops offshore at Ko Pu and Ko Jum.
The ferry arrives at the north end of Koh Lanta Yai, the slightly bigger and much more populated of the two islands. The arrival is on dock in a series of them, rickety in the extreme and as you get off it's full of aggressive taxi touts trying to grab you for a ride. The town surrounding the dock was lively looking but I'd pre-booked my lodgings and they were about halfway down the island so I got on a sketchy motorcycle sidecar taxi and was on my way. We of course promptly got lost with the driver at first refusing to look at my phone to see the name of the resort and taking me 10 minutes in the wrong direction until I finally convinced him. In the end that didn't help much as he'd never heard of my place and we ended up just driving to the right beach and in the end I'm the one that spotted the sign.
The island hides it's exceptional beauty well at first as the road that links the varying beach villages is rough, seemingly half constructed with no work proceeding while I was there and often covered in junk. Ugly cinder block and concrete shophouses are interspersed with bars and restaurants/snackhouses in clusters along the road. The occasional hostel or small hotel sticking out, usually of the 'built cheaply then never maintained' variety. The jungle interior occasionally snakes down to the road area before withdrawing again and it's unusual to not see at least a few cattle or goats grazing beside the road in spots. It's not until you start exploring the side roads down towards the beach. It appears as though nearly all the lots along the beach are long narrow strips and many/most of these contain varying levels of beach bungalow style resorts. Most of these are visible only as a small sign on the road and the sign is usually no hint as to whether you're looking at a 50 room resort with a pool and amenities or a 5 dorm hostel. It's definitely not a place where you can easily come, grab a cab and tell the cabbie to pull in at some place you think looks nice.
Looking for a contrast from Patong I'd booked a room on a beach purported to have a laid back hippie vibe and more or less found it as advertised. My digs were… acceptable, not quite the quality I'd been lead to believe but not terrible for the equivalent of $20 for a private room. A simple bungalow with bed/fan and ensuite washroom. Reviews had mentioned the beachfront restaurant/bar being particularly good (and greek?) but based on my visit that had completely changed in the past while. The shower was also terrible with near zero water pressure (and only cold water) so that my hair felt more or less perpetually salty til I was off the island. That said the room was clean, there was a mosquito net over the bed, a hammock on my porch and the beach was just steps away. The one thing I definitely missed was a mini fridge to keep water cold because man was it hot while I was here.
And what a lovely beach, I arrived at low tide with the sun sparkling on the tidal pools so I wasn't able to just run out and swim but instead went for a walk along it. Seemingly every hotel/bungalow complex had their own beachside restaurant or bar ranging from the simple thatched hut and table of mine to elaborate log bars and poolside tables of the fancier places. Even the largest resort on this stretch of beach was a relatively simple place
however and nowhere was food expensive at all. The clientele was definitely a bit older with a healthy mix of backpacker types, aging hippies and older couples travelling on a budget as well a fair number of young european families.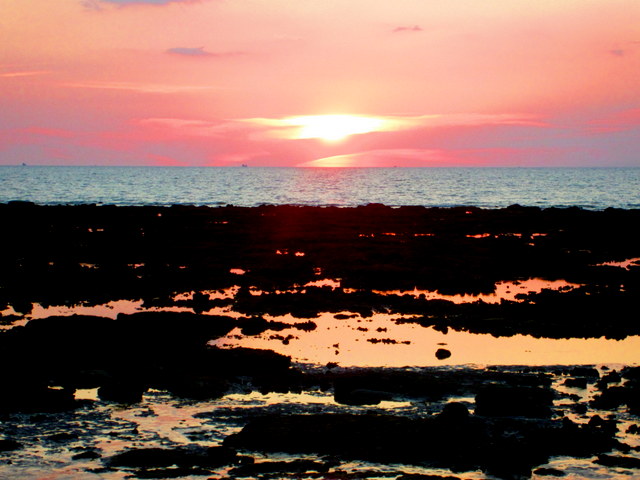 I ended up spending that first night farther down the beach at a place where the tidal pools were a bit less pronounced went for a long swim until sunset then grabbed a giant bowl of noodles and a beer as things finally cooled a bit. Sleeping unfortunately wasn't particularly pleasant as I fought to keep the mosquito net somewhat over me as the fan struggled to keep me cool.
I spent most of the next day walking up and down the island on the beach side of things, going for the occasional swim and stopping and reading here and there. I also broke out the snorkel and mask now that tide was in and floated over all the boulders and pools I'd walked across the previous evening. Watching all the fish feeding and the sea cucumbers hoovering up things I made sure everything was adjusted properly as I hadn't worn the darn thing in two years and would be needing it. I'd reached out to a couple of the local dive shops and knew I'd be staying an extra night in order to do a full day dive trip the next day so was mostly about relaxing before an early night. If I end up here again I will almost certainly spring for a place with a/c as it would have been nice to retreat to the cool for a brief nap at the absolute heat of the day.
Nightlife wise the big party of the night appears to bounce around the island (there are six or seven beach hubs down the coast) with my particular spot being the most laid back. In the end I pretty happily pulled up a lounging cushion and table at a restaurant a few down from my digs and listened to a cover band playing very well but with questionable command of the lyrics. In the end I spent a couple incredibly relaxing hours there through the sunset and watching the waves turn to blackness as I ate a delicious burmese curry and drank some fruity drinks. Once everything was dark numerous bright green lights appeared out to sea almost giving things an alien aura. I thought at first they were dive boats doing night dives but as more and more of them lit up it was obvious there were too many. Apparently they are actually squid boats using the lights under the water to lure in their catch. As enjoyable as the evening was though I went off to bed more or less as soon as I thought it would be cool enough to sleep as my morning was going to be early.
—
At 7 the next morning I was up, dressed, semi-rested and waiting on the road to be picked up for my dive boat departure… only to have the driver be 15 minutes late. I was glad I'd agreed to walk out to the main road or he may never have found me. Thankfully the rest of the operation was at a higher standard.
It was a reasonable hike out to our dive site for the day and once we were on the boat and moving the crew served a pretty great breakfast. A bunch of fresh fruit and veggies, some bread, cooked chicken and crispy bacon and some other fixings. Making myself a quick sandwich and grabbing some pineapple and mango I settled in for the trip. The dive crew was the usual mix of random expats you see at all these places (I'll admit I wish I'd spent a couple years in my twenties doing the same somewhere warm) with a Canadian, several Frenchmen, a Brit and a Swede along with two local thai dive leaders. The passengers were a mixed bag as well with two older German ladies who were just along to snorkel, a swedish family out for their second day in a row with two older children who dove and a toddler that the parents took turns sitting with during the dive. Several other solo travellers were aboard as well with a young swiss woman out for a fun dive, two other women finishing off their open water certs and a couple scandinavian men doing advanced OW and Rescue courses.
There is literally no better place in the world than a dive boat. I was discussing this with a friend the other day on facebook (oddly also in Thailand and basically doing the same itinerary a week ahead of me.) Hop on a dive boat almost anywhere in the world and you'll find a multinational crew and multinational passengers having an absolute blast and more or less fighting through any language barrier to share our love of the sea.
A little background here. I did my PADI (diving) certificate course in Australia on the great barrier reef and did a bunch of extra dives there as well. Since returning from that trip I've gone diving pretty much every chance I get somewhere warm (West Hawk doesn't really appeal) and have loved it every time except my last time out… I had a really bad experience in Puerto Vallarta and it's entirely my fault because I'm an idiot who forgot he'd had pneumonia not long before and probably shouldn't be diving anywhere deep at all due to lung pressure issues. I ended up feeling absolutely gross afterwards and rightfully punished myself mentally for ages. While I realized that that was a one time thing, between some sinus/ear issues right before I left, the really bad experience pressing on my mind and the fact that it had been two years since I'd even attempted diving I wanted a quick refresh. In the end with the company I chose it was only an extra few bucks to get a one on one instructor. He took me through some basic skills before and at the start of the first dive, my confidence was back more or less instantly and we were off on a proper dive after about five minutes. He thankfully was from chicago and agreed with me that I didn't need a wetsuit, the booker and original fitter guy had insisted I try them on because "I would want one" despite the fact that I knew the water temp was around 30 degrees celsius.
The site itself was a beautiful collection of 6 (or as my guy Sean put it 5 and a bit since one of them was a tiny pinnacle) islands a couple hours from the dock. Our first dive dropped us down onto the sand between some rock and coral outcroppings and we quickly did the exercises we'd planned and once all was confirmed to be well we swam off into the blue. Well, not quite… but we did get much deeper and followed the edge of the island into the bay drop off and admired all kinds of fish, lobsters and sea snakes. Upon surfacing my guide immediately said something along the lines of "well your breath control is fantastic for someone who hasn't dived in that long, we'll go harder next time." I agreed, I'd had more or less zero trouble keeping neutral buoyancy and he'd helped me get weighted well even without the lift from a wetsuit.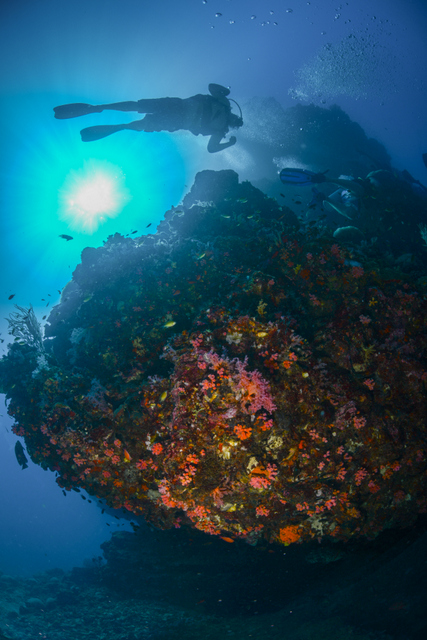 Dive two was definitely a more energetic one with us dropping down near one of the smaller islands circling it completely and then going off miles from the boat when we saw some baby black tip reef sharks. That left us with a long 15 minute swim back to the ladder so I was a happy hungry boy when I found out that lunch on this boat wasn't the usual cooler full of ham and cheese sandwiches but a big tub of rice and three kinds of delicious thai curry.
That was of course our longer break with a shorter third dive planned for an absolutely gorgeous lagoon area. Frustratingly it filled up with cheap speedboats loaded with an army of package tour snorklers who managed to get multiple pieces of plastic into the ocean in their first 5 minutes there. Our crew managed to collect it but you definitely see the difference in respect levels between the crews. Thankfully those snorkel tours are very much in and out as they whisk you to five different places on a cramped speedboat so by the time we were surfacing they were mostly gone. This was the dive site where the same crew had seen a whale shark several days before (one of my absolute must see at some point things) but sadly and not surprisingly there was no repeat appearance. It was still a great dive however with fish galore including a stonefish trying very hard not to be seen, some beautiful coral and nudibranches and a very bashful turtle.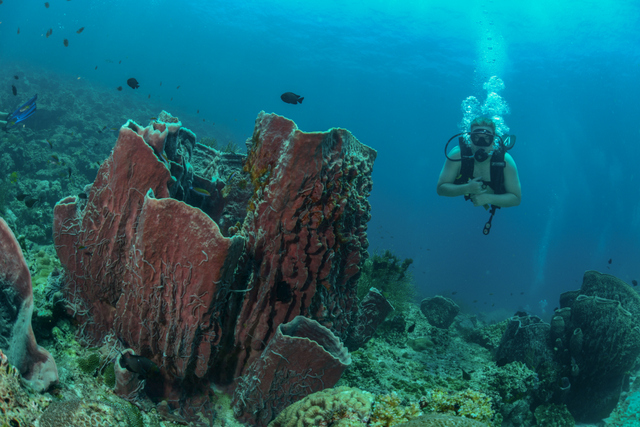 Back above water I was beyond pooped but very very happy and a gorgeous gentle ride in had me ready for a very lazy night. After saying goodbye to everyone and snagging my ride back I ended up hitting the 7/11 for a coke (lest I fall asleep instantly) and stumbled back to my bungalow, trying with futility to get some semblance of spray into my hair from the terrible shower nozzle and in the end augmenting it with water bottles full of water from the sink to at least rinse the suds out. I managed to force myself out for dinner and ended up listening to the same band at a different restaurant though they had a slightly different set list. That probably isn't a good thing though as I don't think their beach boys to metallica to claptop sequences were much of a hit with the crowd, though at least they didn't play the James Blunt this time.
I left Koh Lanta the next morning sadly deciding to end my southern journey here as there is still much I want to explore in the northern part of the country and I'm running out of time. I would definitely include Lanta on my itinerary again if I return to the Thailand as it's a gorgeous place and I feel like I barely scraped the surface both on land and in the sea.