Editors Note: WordPress has yet again decided to completely revamp the editor so this may not look consistent with the other posts.
Our second morning in Lisbon started with a concrete plan to hop the picturesque old tram and take it up to the Alfama/Castle district to explore.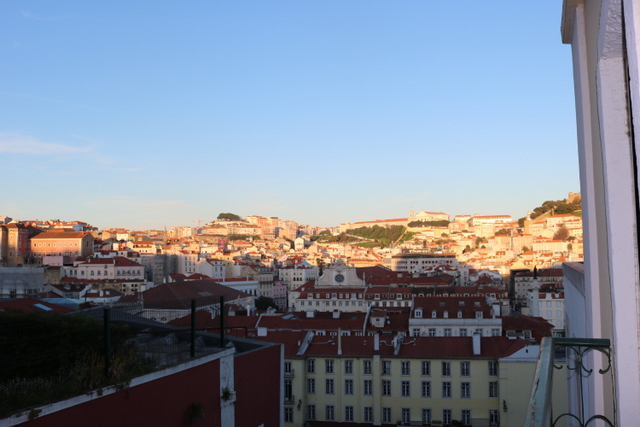 Breakfast was a nice get together again with our host and this time with our fellow guests as well. They were a married couple and two coworkers from the Seattle area who'd just been to the Mobile World Conference in Barcelona via Paris/Amsterdam. There was a brief window where I once thought I might get to go to that conference back in my coding days so I admit a bit of jealousy. Luis gave us all various bits of advice before we scattered, telling us the most interesting way to walk up to the flea market before heading onward to the castle.
We started on our way back down to the Baixa taking one of the shortcuts we'd discovered on our previous night's wandering and decided to take a slightly different route down to the water. In doing so we checked out a nearby church we hadn't had time to see the night before. It had burned down in the 50s and been rebuilt but keeping much of the fire damage to the original stone, interesting but also quite odd looking. Outside, one of the many Ginja joints that are essentially a tiny closet in a large building and decided that breakfast indulgence would be alright (since it was pushing brunch time anyway.) Gijinha is a liqueur made from a sour cherryish fruit (the ginja) that many Lisboetas seem to drink almost religiously. More or less anywhere you walk in the city you'll see one of these teeny bars that sell literally only this one thing and locals stopping it for a quick shot with or without fruit. We'd sampled it on Madeira as it's popular all over Portugal but the omnipresence of it in Lisbon was kind of amazing. The liqueur itself is essentially the same brandy that's in Poncha with the cherry sugar and some cinnamon infused in it. It's both strong and smooth and often served in a little edible chocolate cup (one person told me this started in one place in Portugal and has spread.) On this occasion we were given our glass shotglasses and stepped outside, had cheers and sampled, spitting out the pits like the locals.
our Ginja pusher

Gijinha Man!
Reinforced for the day ahead we began walking down to the tram line only to discover (again) that they were just too crammed with people to make getting on (if it was even possible) appealing at all. As previously discussed we were in Portugal over the fairly extended Carnaval period so tourism numbers were probably way up (I definitely got the feeling at times that there were more Portuguese travellers in Lisbon visiting the capital than you might normally expect but forgot to ask Luis if that was the case.) In the end we decided just to walk since Luis had given us what he said was the most interesting route.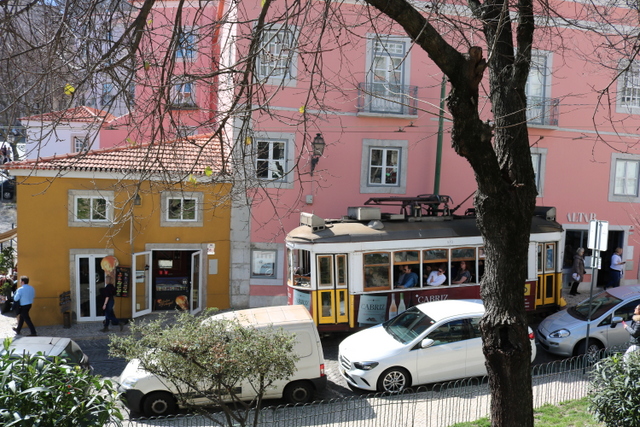 Interesting was code for "Hilly oh my god more steps" in some ways but it was definitely intriguing. The Alfama neighbourhood is pretty much the oldest extant neighbourhood of the city and was at one point (in moorish times) more or less the extent of it. Since it's more or less all built on the steep hill up to the castle it was spared from most of the tsunami destruction (perhaps firmer bedrock helped with the earthquake too, I'm not sure.) and as such the streets here maintain the old narrow twisted patterns that were originally meant to confuse invaders and work equally well on tourists. Even I was glad for google maps that day. (I love you Luis but your claim there would be signs pointing at the castle everywhere was BS unless you were on the tramcar path.)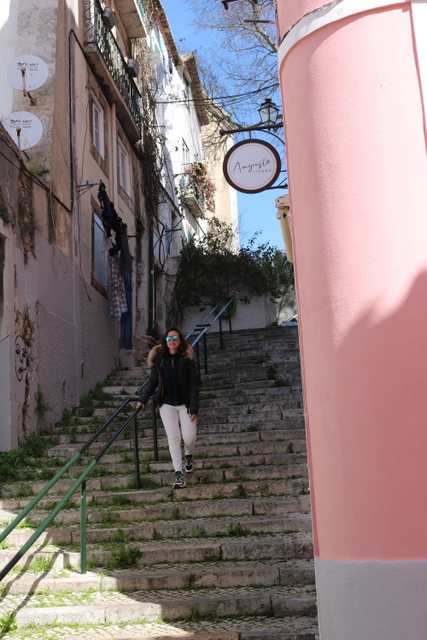 As you make your way through these narrow staircase/alleys you can run across almost everything. On one landing there will be a tiny postage stamp sized square with two microscopic bars and a couple of tables set out… on another you'll see a magnificently tiled old home towering up 3 stories but only about six feet wide. In the Moorish/Medieval days of the City the nobility lived at the top of the hill nearest the castle and you can see this in the expanding size of the homes as you climb higher. Later the the district became home to the poorer citizens (fishermen etc) and there are signs of this in some of the decorative motifs. These days it's known more as the immigrant area of the city with swaths of construction labourers from Portugal's former colonies, India etc coming and staying in the neighbourhood during the pre-recession construction boom but with the cooled economy and austerity measures it's changing once again. Apparently there are numerous public baths and laundries because many of the very old buildings lack any remotely modern conveniences.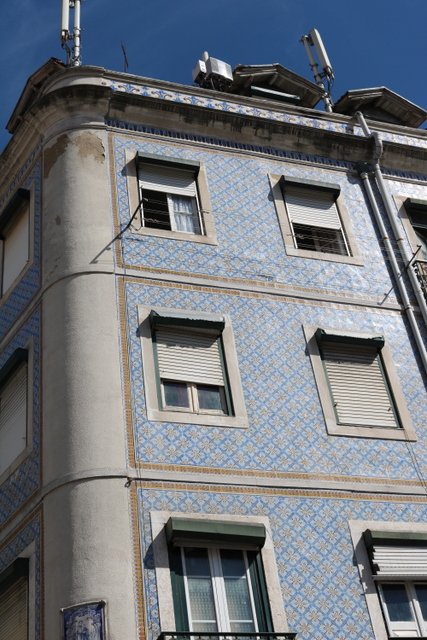 Eventually we reached the top and found the aforementioned flea market which was incredibly lively. It's definitely a proper flea market and not just a tourist thing as vendors are selling everything from vintage clothes, furniture and broken toys to artisan goods and food. I saw a very near old map of Madeira that I was sorely tempted to buy but as it was still early and I knew I'd be carrying it around for six plus more hours at least I didn't see how it wouldn't get wrecked. If I'd just been visiting Lisbon the rest of the trip there were definitely some neat furniture things I would have at least examined too but the rest of the trip was so mobile/seat of our pants that I just didn't want to even look and fall in love with something that would take too long to arrange shipping on. (Plus I'm fairly sure this was around the time that Dad told me my hot water heater had broken so I was feeling extra poor with every euro spent.)
Heading uphill (some more!) from the Flea Market we came to the Church of St. Vincent de Fora which was vast and impressive and is the burial place for a number of Portuguese monarchs. We also discovered that the area near the castle appears to be where some well established ceramic workshops were located. Again I wish in some ways we'd been finishing our stay in Lisbon as I saw a few things I might have picked up had we not been looking at then hauling them around another week+.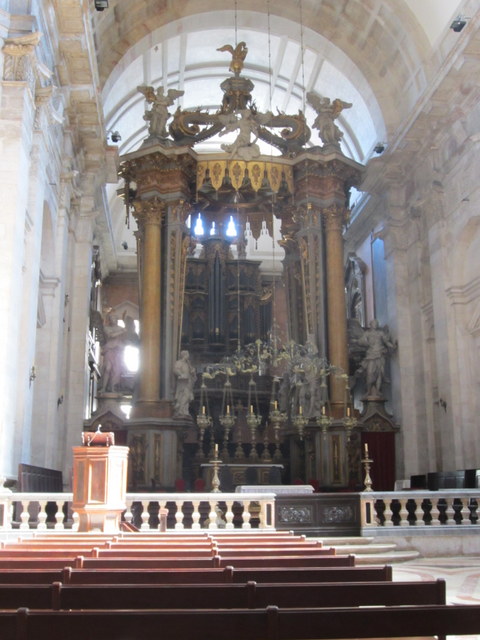 A fairly long line greeted us as we waited to get in to the Castle grounds proper but it was absolutely worth the wait as the Castle's ridiculously defensible vantage point gives it and its grounds one hell of a view across the entire city and the River Tagus out to the ocean. As the site has been host to basically every fortification the city has ever built it's archaelogically/historically kind of a mess as a site to visit, but also interesting for that. The exhibit of artifacts recovered at the site has a ton of things from the Roman era through to the early portuguese state. The inner portion of the castle itself is mostly the fortress built in the moorish era but there are also later walls from era where it became the protected seat of the Governor or King of Portugal depending on the era. Eventually as it became less necessary to always be behind thick walls the royals moved to swankier digs (as in most European countries) I believe originally in the Baixa (the valley below the castle) then as previously discussed out to Belem after the earthquake. From then on the castle was apparently just a military stronghold/storage depot and as such isn't a particularly well preserved example of castle-tude, but it's impressively stout and you can see why the legends of a Knight sacrificing himself to hold open a gate during the siege to force out the moors might be true. Not much was getting through or over those walls. Definitely neat to explore given the views it commands and the less safety paranoid approach the Portuguese monument folks take.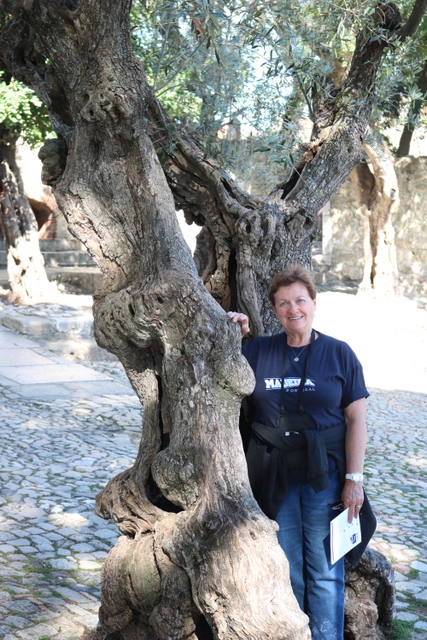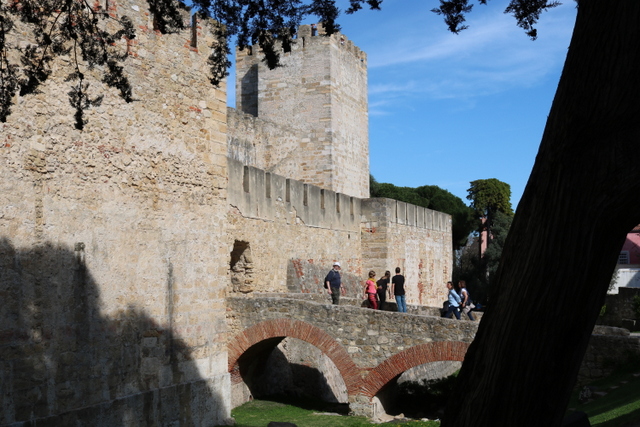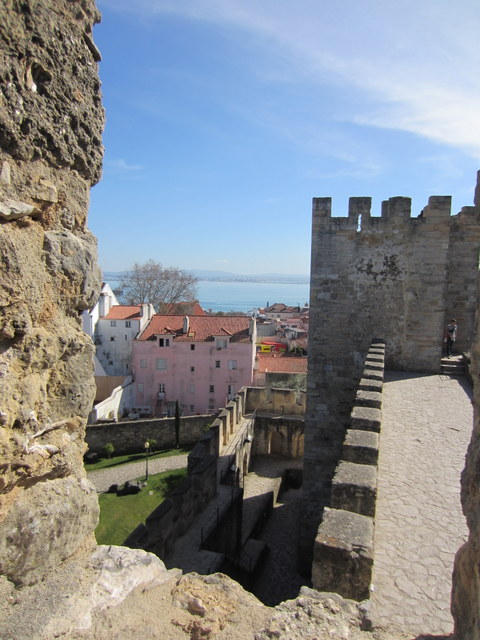 The terrace of the castle gardens is every bit as nice a visit as the castle itself. Gnarled old trees, some so split they're essentially two trees growing in a helix, dot the grounds everywhere and even on a scorching day I imagine it's easy to find some shade and look out at the city. The grid pattern of the rebuilt Baixa is very evident from up here and one can imagine the Marques de Pombal standing on that very spot planning his grand scheme. One can also sadly imagine the horror the soldiers standing guard must have felt watching their city tremble, burn and drown below them. We got an interesting dose of Carnaval as we were winding up our visit as well with a giant team of young folks streaming into the castle holding banners and wearing odd costumes. Out in the garden we got performance dancers standing near the walls and on pillars near the exit were crow people squawking at passerby.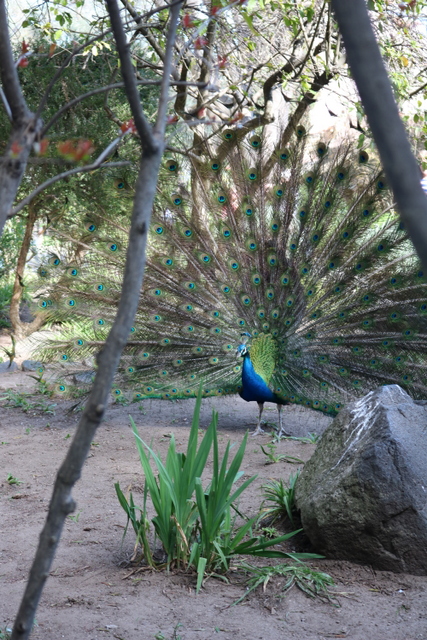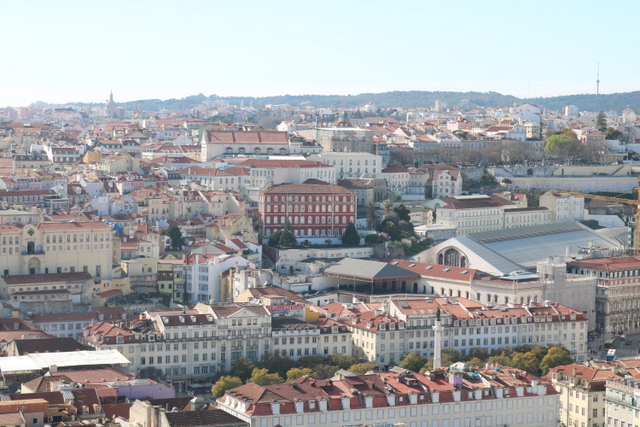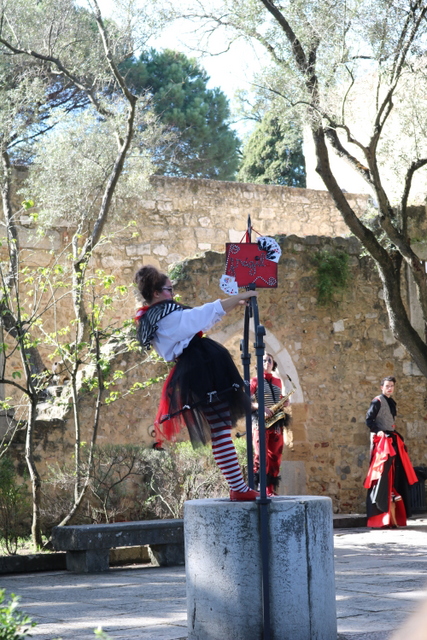 By the time we started making our way back down the hill we were starving (and mom was getting hangry.) Given the time it didn't make a lot of sense to have a big meal but most of the restaurants nearby had only pricey large dishes at a heavy tourist hotspot markup. Again I don't mind paying a bit but some of those places definitely had a vibe of mediocre food you're paying for the view.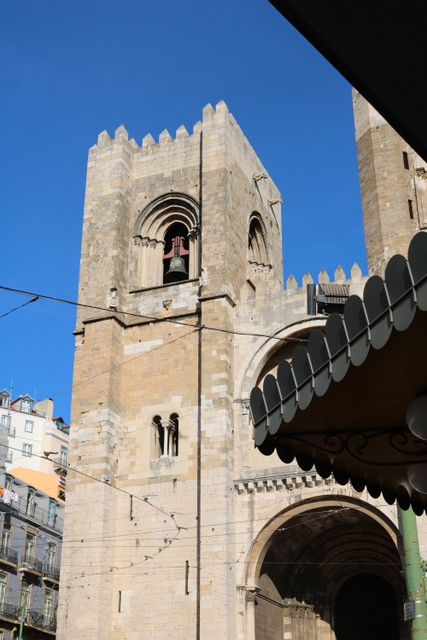 Luckily Lisbon has transformed many old news kiosks (the round european style ones) into mini cafe 'qiosques' that sell sandwiches and cake and ice cream and the like. We ran into one on a cute little square that according to Steves is 'the best place to get the pulse of the neighbourhood' and grabbed a cured ham and cheese panini, a couple of ciders and did some peoplewatching. Honestly these are some of my favourite moments when travelling in Europe, you can sit there ages if you like, you can take your beer across the street and sit on a park bench if you want and watch the world go by.
After a bit of a recharge we visited the nearby Lisbon Cathedral. While it's the oldest in the city it's also been rebuilt many times due to earthquakes and lies on the site of a former mosque and a roman street with shops and sewer. they are trying to currently redesign the site to make everything visible.
Meandering back towards our guest house through the streets we ran into a few more sardine stores. The Portuguese are super into canned fish (all canned fish not just sardines) and also export large amounts of it. Somewhat hilariously to someone from mostly sardine hating north america this has led to lots of touristy sardine shops. That old tourist spot standby of "have an X from the year you were born" actually gets applied to sardines in Lisbon!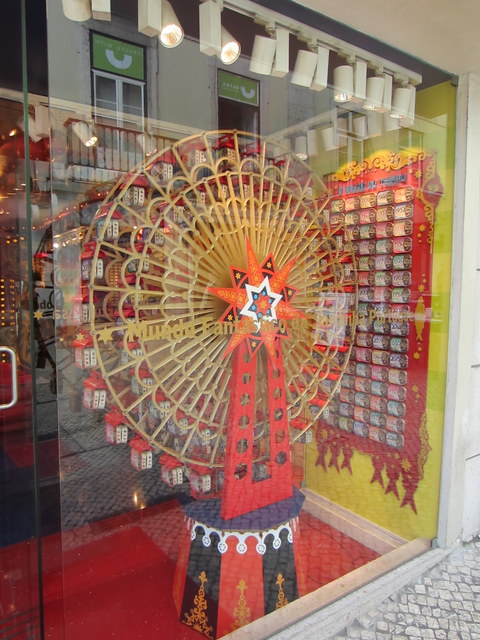 We also sampled an afternoon sweet at the Confeteria Nacional which, while it desperately needs a take a number system, served us delicious cakey things picked at random from the display case. It's been serving sweet treats at this location since 1829 and the interior decor doesn't look like it's been updated much in the past century. We may or may not have also grabbed another Ginjinha to fortify us for the climb back up to the guest house.
Dinner that night was an absolutely phenomenal burger and great fries at a little place in Bairro Alto. Everything made from scratch and super tasty. Wandering around after trying to work off dinner we ended up in a weird little 'half irish pub/half dance club' called Cheers (with the logo) that had a very talented fiddler/guitarist playing and a small table free. While we were originally just planning to have a quick drink they were so good we ended up lingering til after midnight despite having originally planned an early night to pack for the train the next morning.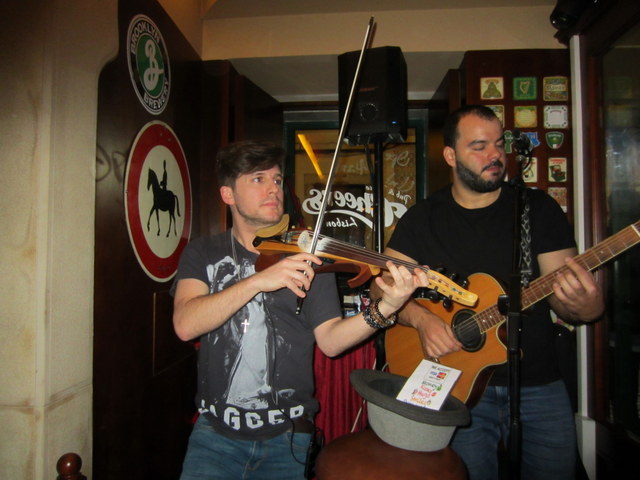 All in all I felt like we'd crammed in a fair bit for our first visit to Lisbon and we knew we'd be back before the flight out so there was more still to do… for now it was on to the Algarve by train.