The excitement was palpable as I woke the next morning. I grabbed a quick slice of toast and made sure I had everything I needed for my dive… Mom planned a laundry run since this hotel actually had on site laundry. Hopping a cab to the marina I ended up with a driver that (while he didn't compare to last year's Thai Steve McQueen) did his best to re-enact the movie Ronin. It's a good thing I don't get car sick as showing up at a dive trip already nauseous isn't the best.
Back on solid ground (temporarily) I made my way down to the actual waterfront at the Marina where it was early enough that most of the cafes hadn't even opened. I'd even beaten the dive shop staff in which is saying something. Eventually they opened up, I got my final paperwork signed and began gearing up, finding that thankfully they hadn't been lying and had a wetsuit big enough for my shoulders (though it was cavernous elsewhere.) Both guides weren't fooling around and had full drysuits (a sealed system suit that keeps the body dry and offers better thermal insulation while also becoming more complex for buoyancy/pressure control. The rest of the dive group was a young pole on his final certification dive, a middle aged german guy who filled out my size of wetsuit a lot more and a young woman, also from Germany, who had a camera rig probably worth around 4k. Unfortunately due to the cert diver we weren't going anywhere too fancy but were told it was a nice reef with surrounding sandy bottom. I'd had hopes of doing a dive at an artificial reef/sunken navy ship but given it was off season only the one boat was going out.
Heading out to the boat was a new dive experience for me, I've never gone for a dive somewhere that had you gear up almost completely in the shop then walk for a fair distance only to unload again on the boat. The gear was top notch with a proper weight vest, almost new BCD and a basic computer provided. The boat itself was a relatively new rigid inflatable with no sunshade, I wouldn't have been a big fan on a hot summer day but on this particular day it was fine. It was at least well set up for gear and only about half loaded so we flew. Strangely enough it turned out that our dive site was pretty much right off the point of our hotel.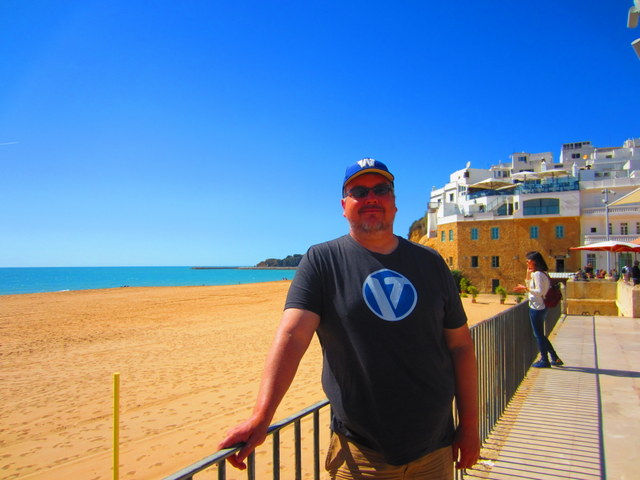 Geared up for the final drop off the German guy and I buddied up and dropped down the anchor line with our guide/cameralady. Initial impressions weren't great and weren't buoyed by the fact that one glance at the water had the leader handing out high beam led flashlights. Vis at the surface was at most 5 feet and hopes that it might get better further under the swells were quickly dashed. IIRC bottom was at around 14 meters and we didn't even see that until our fins hit which of course doesn't help much for visibility either. For those of you that don't dive, when you're doing this type of guided dive you keep an eye on your buddy and your dive leader basically at all times. This becomes very difficult when reading your wrist computer or gauges takes a second look and your fingertips are clouded on an outstretched hand. That's where we were at, at best visibility was 1m and with the sediment frequently less. We managed to see one nudibranch on what was more of a solitary rock than a reef but, even with high beams my buddy and I lost the dive leader until he circled back, then we lost camera girl and while I was clearing my mask my buddy disappeared. The dive leader managed to get us rounded back up, looked around… visibly sighed as much as you can in dive hear and gave the thumbs up (which in dive signals means, let's go up) unspooling the alert flag.

Credit to him for actually doing the safety stop as though we'd done a full length dive and even then we temporarily lost my buddy again. As we broached the surface he was immediately apologetic but said he was cancelling the dive for safety reasons. We all totally understood even as I was somewhat heartbroken at the complete catastrophe my diving this trip had become. The certifying diver and his instructor stayed down for their full dive but as certification in that situation has you basically locking eyes with the instructor the whole time it was less complex for them. When he was back on board the rest of us told him (backed up by the instructor) that certifying in that mess meant he was definitely ready for diving anywhere.
Resigned to our fate I did my best to enjoy the boat trip back. It was at least a lovely day for that. We assured the dive leader that we understood his decision and he admitted that it had been bad earlier in the week and he'd worried the rain and waves the past bit had made it worse. As we reached shore he admitted he doubted they'd try to go back out again before the following Tuesday (this being Thursday I think.) Apparently in summer the wind patterns work better for sweeping sediment back out to deep ocean but the prevailing wind at the moment was being unhelpful. To their credit they gave us all a full refund, there was non-refundable 'boat fee' despite the fact that we'd gone out.
Luckily the café next door was fully open upon our return and a few of us settled in since despite the abbreviated dive we'd still done most of the work and had the usual post dive munchies. A bargain five euro full English with two eggs and double meat hit the spot and despite the aborted dive and cancelled second dive it was actually not super far ahead of when I'd planned that I got back to the room. The laundry excitement was over and we ended up just enjoying the sunny rest of the afternoon.

That night the resort's Ocean Bar was hosting a low rent trivia night and we decided we should at least attend one resort event. I really enjoy pub quiz/trivia night things but never really get a chance to do them at home given how few of my friends ever leave the house. Unfortunately the clientele factor reared its head here too. A few VERY drunk brits showed up and began screaming (usually wrong) answers and singing badly over the music round. It got so bad that half the room was telling her to "shut the F up" and the poor quizmaster was being as insistent as a hotel service guy can really be. Eventually her husband dragged her off but not before she'd driven off at least one couple who was playing. I still enjoyed it but between her drunken nonsense, other drunken nonsense, a very brit centric question pool (understandably heh but I'm about as anglophile as it gets for tv tastes and some were beyond obscure to me) and the final results showing that everyone playing out on the patio out of the quizmaster's sight was cheating, things could have been better.

The next morning we finished packing, threw the luggage into storage and went for a last walk into downtown/stroll along the beach. Having an oceanfront meal will probably be my lasting memory of Albufeira, in this case another delicious breakfast. We walked around town a bit more and also grabbed a last Gelato but before long we were back on the train to Lisbon. Usually on a trip I try very hard to avoid retracing my steps exactly but unfortunately with the way our timing worked out it was very much easiest to just take the same train back. As for Albufeira and the Algarve, I'd definitely not stay in Albufeira again as it's just not my scene but I'd definitely re-visit the Algarve at large (and probably rent a car for my entire time just for the freedom factor.)

We'd hemmed and hawed about where to stay in Lisbon upon our return. Since we were leaving at 6 in the morning our final day we knew we really wouldn't be sleeping much that final night. At the same time staying out by the airport didn't really appeal. In the end we ended up back with our friend Luis at his slightly lower end guest house, but, happy to see us back he gave us the ground floor suite (NO STAIRS) which was actually even nicer than our previous room. He invited us over to the B&B wanting to see us for breakfast too which was nice as we got some more information about our final touristy thing of the trip in advance. Seriously, if you're going to Lisbon consider staying with Luis at one of his Zuzabed locations, he has everything from guesthouse to private suites with courtyards.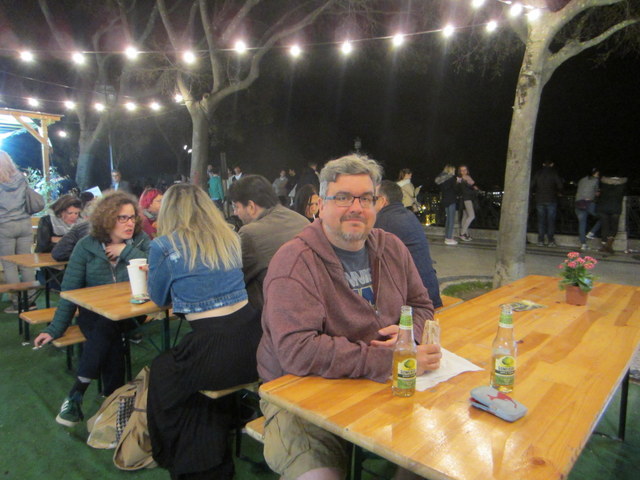 It turns out the night markets we'd visited when last in Lisbon basically ran the exact duration of our mainland stay. We ended up back on the hill to try something new and enjoy the view once again. Give me a bottle of Somersby, a serrano ham and cheese sandwich and a chocolate shot of ginja to finish and I am a happy boy. That being said there was a noticeably less hectic vibe in the Bairro Alto that night vs. the previous week. I guess the previous week had been the height of carnival and tourist visiting. It was still busy but we explored a bit further afield as we had less picking through the crowds to do.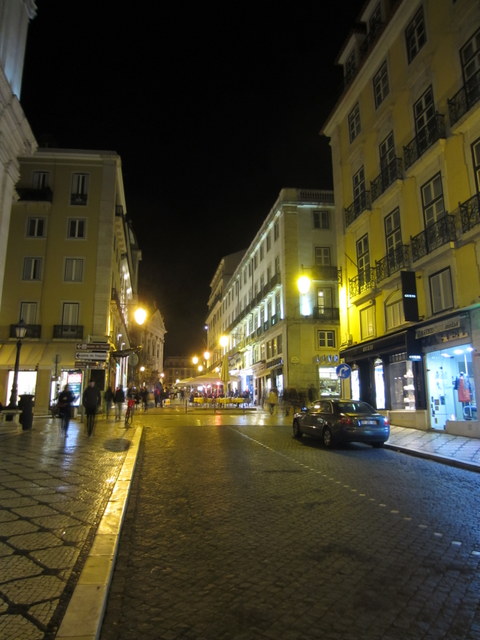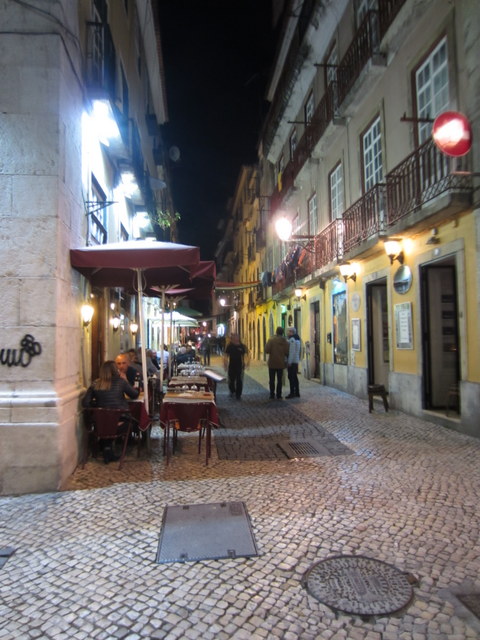 Ever so shockingly we managed another custard tart but, more interestingly, when Mom went in search of a coffee we ended up in a bookstore café. This turns out to be the oldest continuously operating bookstore in the world: Livraria Bertrand. Built into the base of a particularly gorgeously tiled building it's mix of modern touches and absolutely ancient looking barrel vaulted ceilings. Even with most of the books in Portuguese I could spend a lot of time there, but in the end bought a very nice leather bound Tolkein companion and was delighted when they stamped the flyleaf with a store stamp.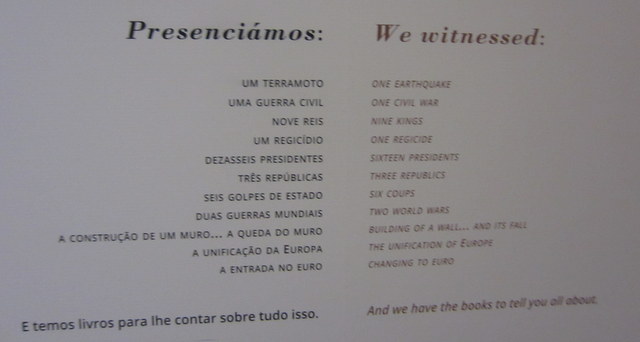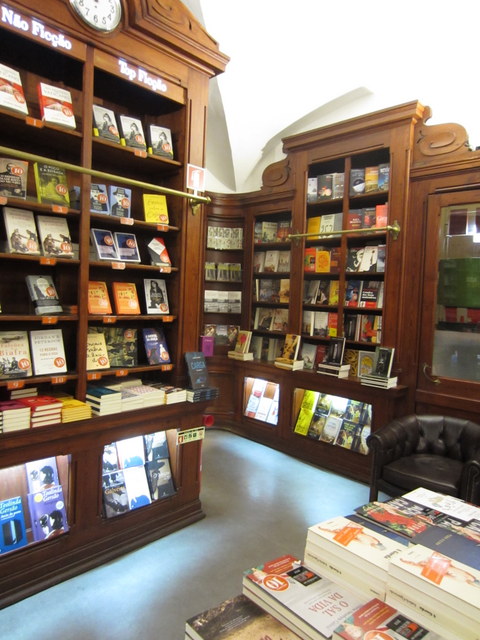 The next morning we grabbed our breakfast with (and said our goodbyes to) Luis and got a few of my pre-research decisions confirmed for us for that day's trip to Sintra. Luis told us he'd get our cab called and ready to pick us up at 4am right in front and not to worry about anything else. We'd gotten a later start than I wanted and lingered longer at breakfast than I expected so, having confirmed that we could bypass the train lines with our already filled travel cards… we arrived at the train station to see none of the lines that we'd walked by the previous weekend. Things were definitely noticeably calmer, it made me wonder just how much shorter the lines at the castle would have been. That said, the train still filled up pretty much to the max and the lines for the palace in Sintra were not short (though not aided by them only having 2 of 5 ticket windows open.)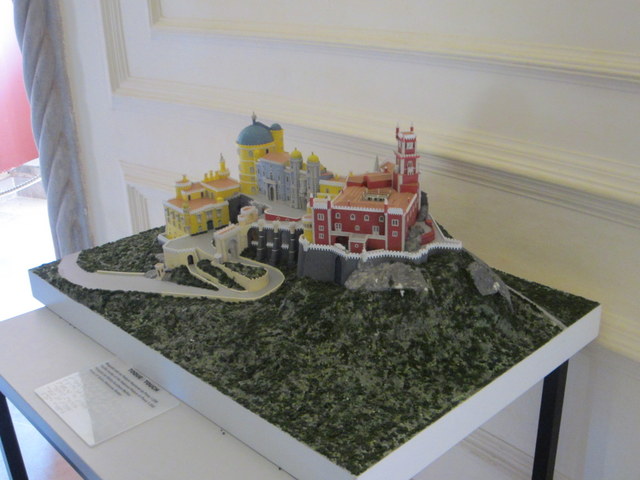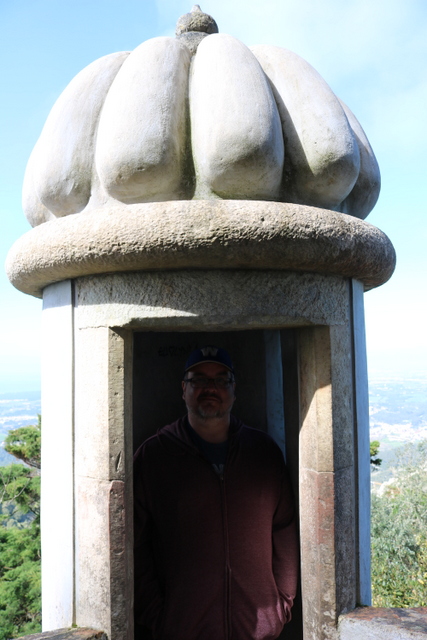 Sintra is not far out of Lisbon proper and has long been a retreat for the wealthy and was usually the summer residence of Portugal's current ruler. The hillier/forested lands apparently trend much cooler in summer and held hunting pleasures not found closer to Lisbon proper. Towards the end of the Portuguese Kingdom it became the home to an explosion of romanticist architecture of which much still remains. One of the main draws is the Palace of Pena. Built on top of (and incorporating chunks of the existing architecture of) a 16th century monastery it has a variety of very diverse architectural elements both inside and outside. Heavy archways are lightened by fanciful carvings and large terraces command fantastic views across the gardens, down into the valley and off to the sea in the distance. It is a gorgeous place well suited for a palace though somewhat blasted by gale force 'winter' winds that particular day.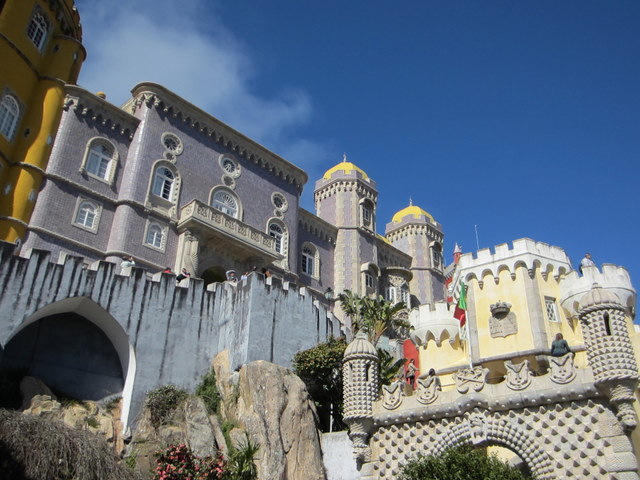 The place very much has the feel of a toy palace and I wasn't surprised to discover part of the inspiration was Neuschwanstein despite the very different styles. Despite the playful nature of the architecture there are still a number of heavy defense elements built in. A heavy drawbridge guards a heavily switchbacked road with gunports that eventually emerges into the main courtyard.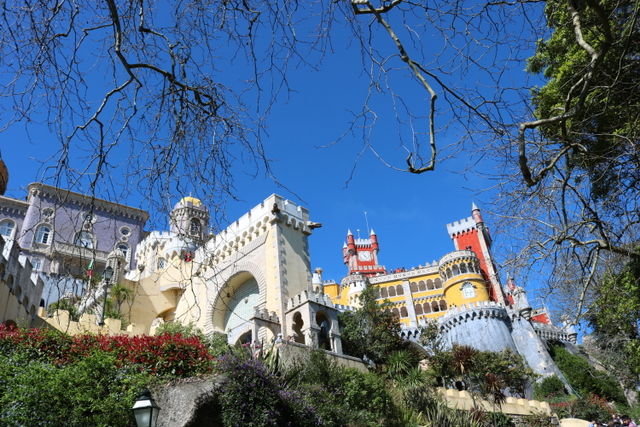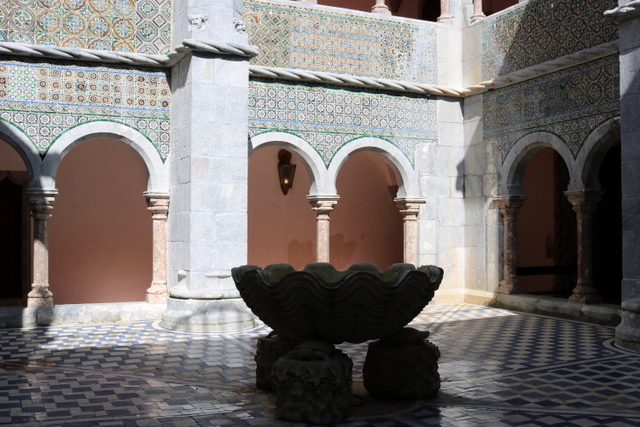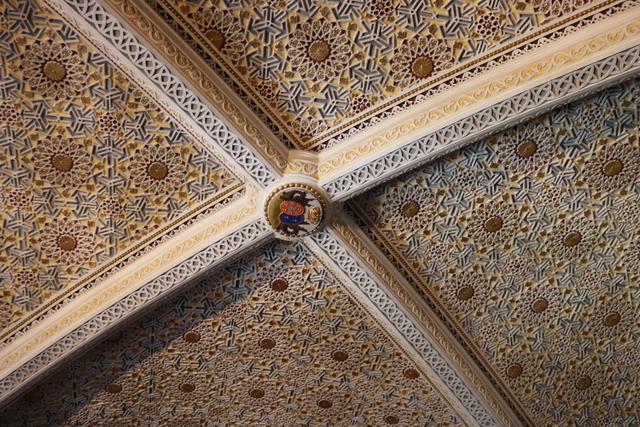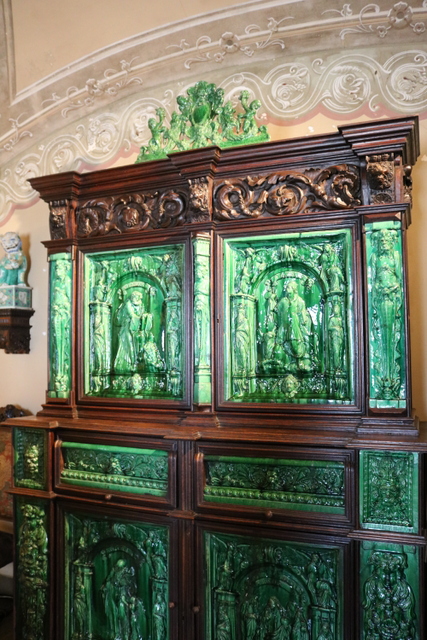 The interior is just as eclectic in design elements though this is perhaps accentuated by some of the bizarre choices the curators have made in what items of furniture to leave on display. I'm sure to some extent this is dictated by the state of their collection but there are definitely some rooms that have a bizarre mix of eras/uses that aren't original. It's a fun visit. The Palace itself occupies a hilltop and is surrounded by a sprawling garden with extensive up and down that we honestly didn't see tons of (you could easily spend a day just on the palace and the grounds if you took your time.)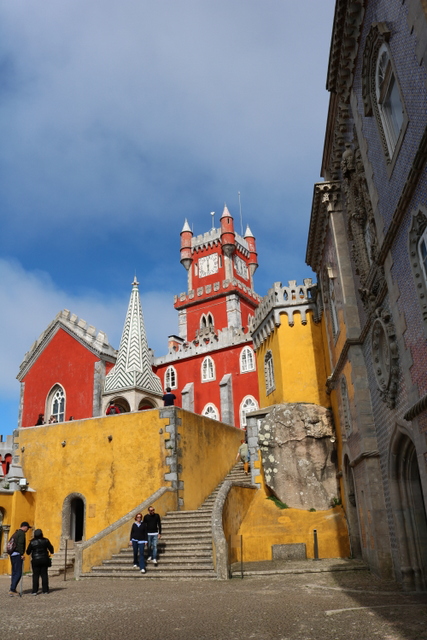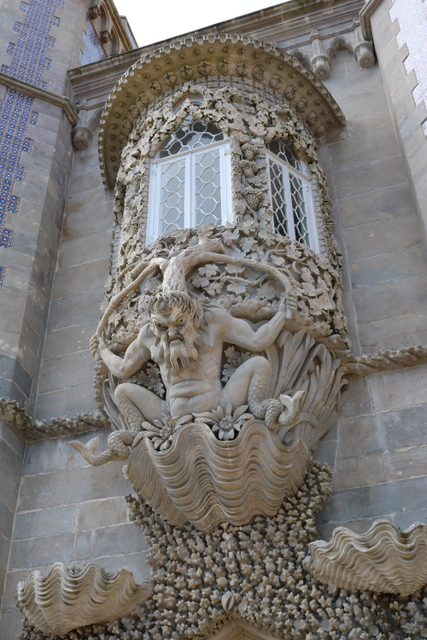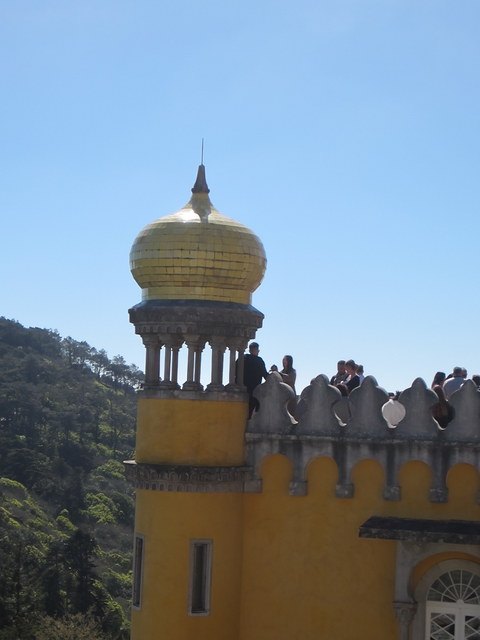 Taking the bus up and down from the castle there were occasional views of various other romantic architecture examples. Many of the noble estates from that era do their best to match the palace in their fanciful natures (if not in scale.) A faux gothic castle at one turn might disappear only to be replaced with an overgrown swiss gingerbread house. It's really quite something and most are still private residences.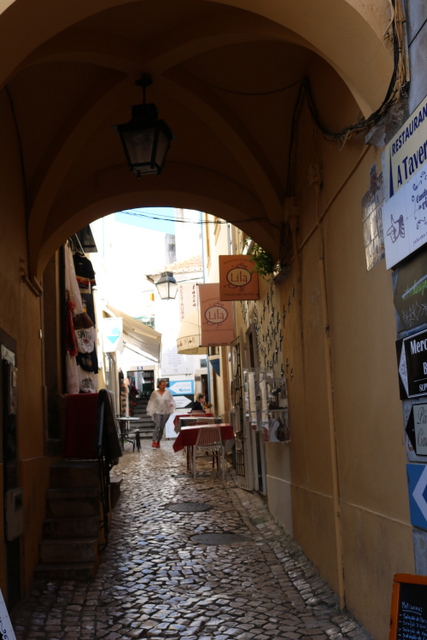 After a quick meal and exploration of some of the shop streets we realized time was getting short and we set out to explore what Luis had said was his favourite part of Sintra: The Quinta da Regalaira. If the Palace of Pena is fanciful then the Quinta da Regalaira is pure fever dream. Built around the turn of the 20th century the estate is an extensive folly (in the architectural sense: a usually decorative building built to imply that it's something it isn't.) The entire estate is meant to evoke his personal beliefs and philosophy and this is conveyed in ways that are… eclectic to say the least. There's even a large amount of Masonic and Knights Templar imagery.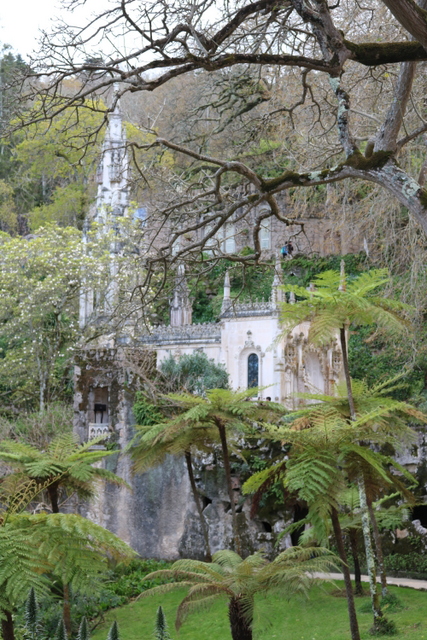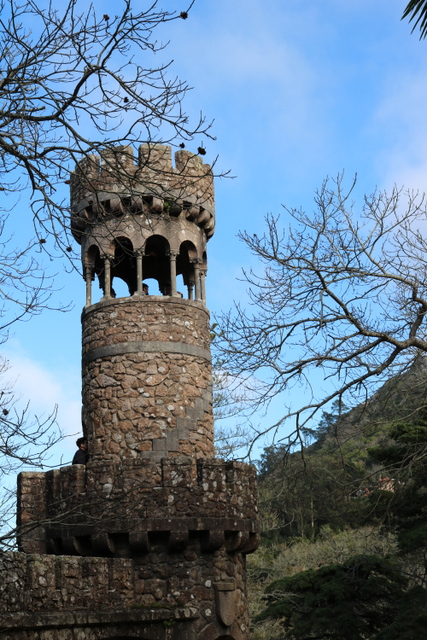 In one corner of the park lies the Palace which is (relatively) small but impressively decorated in elaborate gothic decoration. Across from it sits a tiny Catholic chapel just as decoratively designed but unfortunately mostly off limits.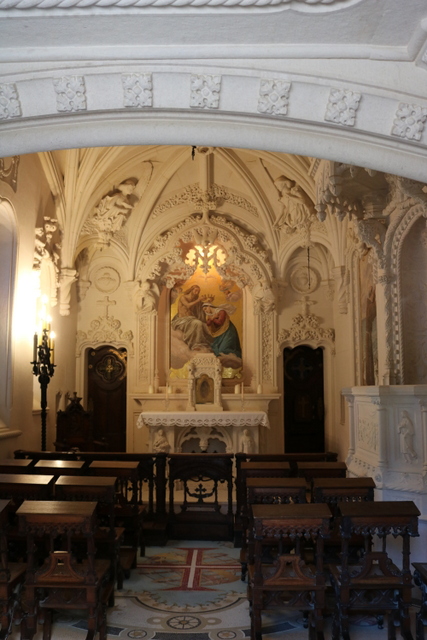 The grounds are where things get absolutely ridiculous. The plot of land is (surprise for Portugal!) quite sloped and is roughly formed into terraced areas with winding paths between them. One of the more impressive discoveries is that tunnels are everywhere. Mostly hewn directly into the rock, most meant to look natural the network of caves stretches all over the place as a labyrinth and I suspect we didn't even see half of them. One tunnel we took brought us up and out behind a waterfall over a grotto with hopping stones to cross the pond. The tunnels also connect to 'initiation wells' which are almost like a tower built below ground, spiral staircases and intricate designs meant to convey the appearance of a place for ancient rites.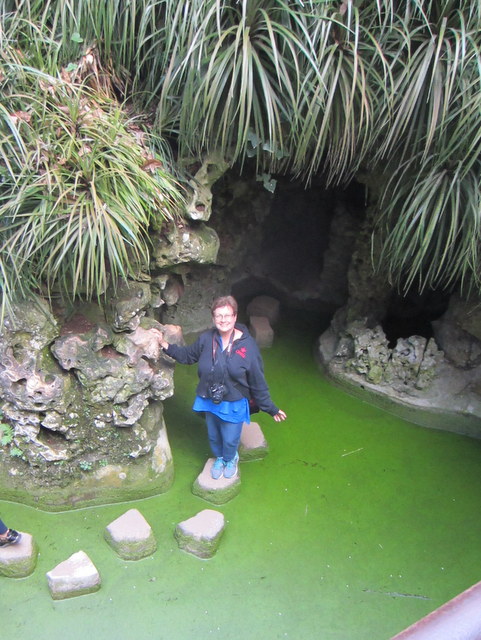 Towers are everywhere above ground as well, some designed to appear ruined, some evoking Moorish or Portuguese age of exploration architecture. The faux ruin aspect is a bit difficult as a modern visitor because the local government only acquired the estate from private ownership in recent years and is clearly still catching up on some deferred maintenance (Portugal's austerity spending cuts likely not helping.)  Honestly it's kind of impossible to really convey the prettiness and the oddness of it, it ended up being probably one of my favourite stops of the trip though due to pure unexpectedness.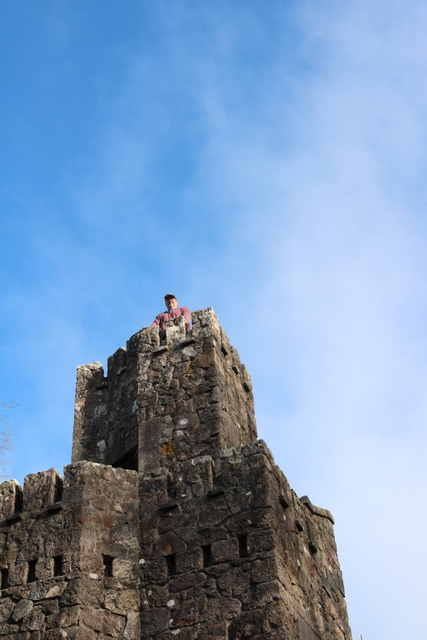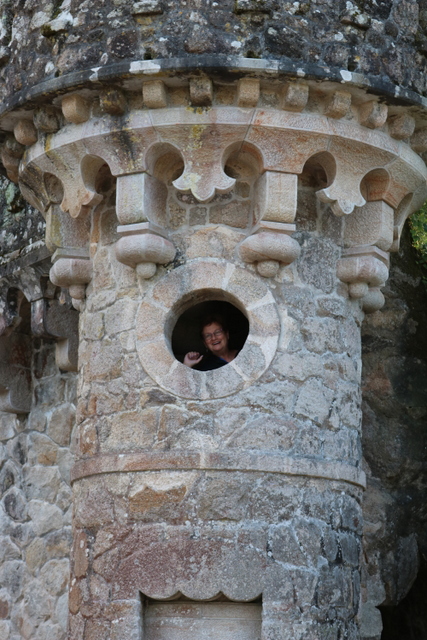 Back in Lisbon we sadly started to come to terms with heading home. While in some ways we were ready for a rest and blessed Prairie flatness there's always still a melancholy that comes over you when it's time.  We still had to get to the airport early however so we took a last wander about town, grabbed a last meal and tried to grab a few hours sleep. We ended up safely making it to the airport this time other than a blind panic about what to do with the keys for the room as Luis had told us they'd open the stairwell next door to his office to drop them off and they didn't.  Thankfully he didn't seem to be screamingly angry at us later.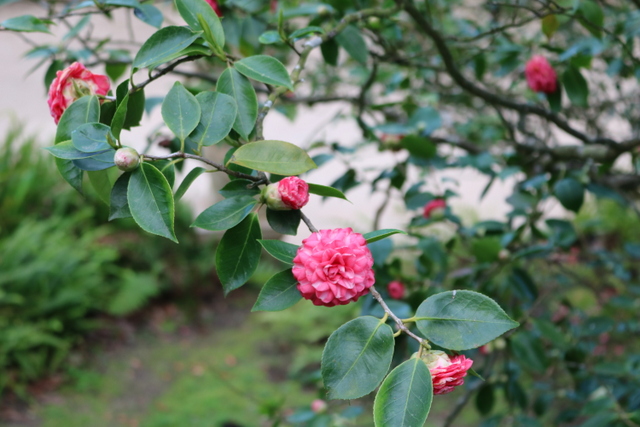 Hop one of the flight brought us back to Ponta Delgada on Sao Miguel in the Azores, tiny home base of our island hopping carrier and a 8ish hour layover. I'd been trying here and there to find us some form of tour to kill a few hours of that layover. It seemed a shame to be sitting there that long and not see some of the island. Unfortunately I'd more or less struck out and when we arrived I started calling tour companies on the phone, most of whom either only ran full day tours or simply didn't answer. In the end I suggested we just go ask a cabbie how much a round trip to Sete Cidades (a set of crater lakes on one of the island would be since from google maps it didn't seem far.) The answer was a surprisingly not terrible 50 Euro so we took out some cash and went for it.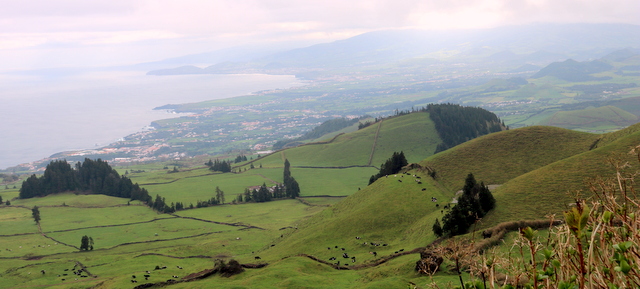 It was unfortunately a very cloudy/misty day on the island and I was a little leery of getting to the overlook and seeing nothing due to cloud cover but things thankfully cleared more and more as we drove. Our cab driver's english was definitely not quite at the level of those in Madeira/Mainland Portugal but he did pretty well and stopped at various viewpoints (or often just on the side of a road) to show us the sights. Vaguely part of the same shelf of volcanic islands as Madeira the Azores are a lot more worn eroded. Long gentle hills separate a few taller peeks and the fertile soil makes for vibrantly green meadows everywhere, most filled with cows.  There were times I was very much reminded of New Zealand and, even more forcefully, of Cornwall as verdant slopes suddenly disappeared into forbidding rocky sea cliffs.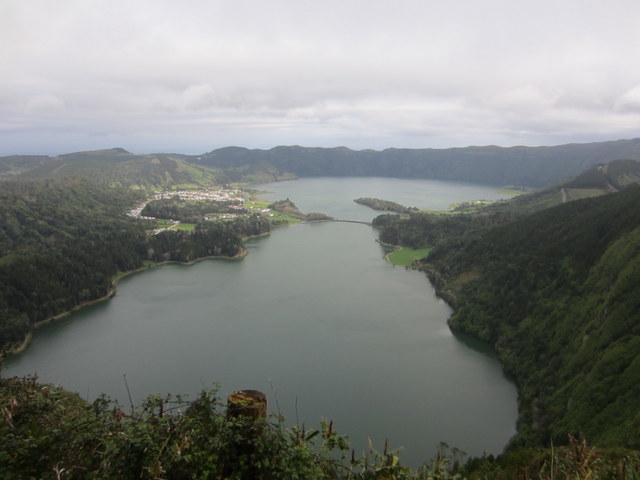 We wound our way up into the hills on the west end of the island and eventually reached the overlook on Sete Cidades. Sete Cidades is a fairly large stratovolcano that makes up a good chunk of the western half of Sao Miguel and is best known for a number of lakes within its caldera. The Lagoa de Sete Cidades is a twin lake separated by a narrow gap that has noticeably different colours in the two halves. Unfortunately with  the lack of sunlight the colours weren't as pronounced as they are in some of the photos we'd seen beforehand but it was still a gorgeous sight from the viewpoint above. Back in the eighties someone built a very fancy hotel here but it failed relatively quickly and is now mostly a ruin. Reading online it appears someone recently purchased it and is planning to reopen it but we certainly saw no sign of that. While it does command a gorgeous view in pretty much every direction it was pretty windy up on the viewpoint and our driver said things were much windier in winter proper. From the viewpoint we took the winding road down into the caldera, stopping at a viewpoint over another smaller lake (apparently there are quite a number of crater lakes on this volcano) and eventually reaching the shore. Nestled along it is an isolated little village, picturesque but extremely quiet.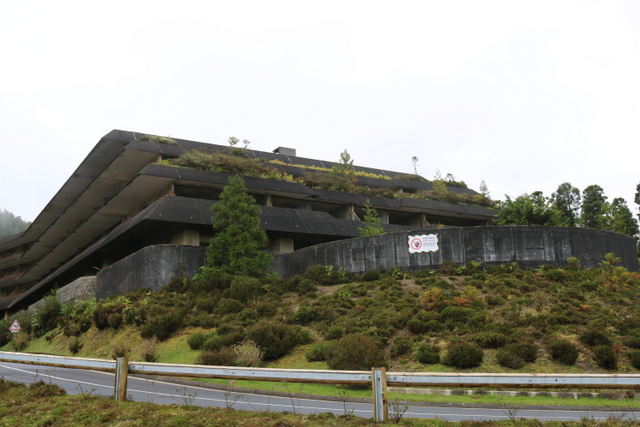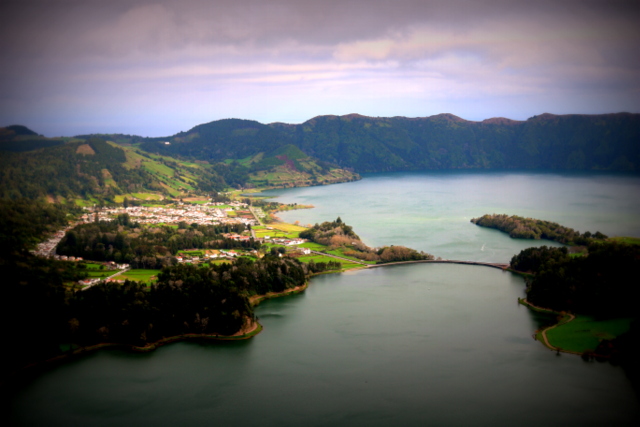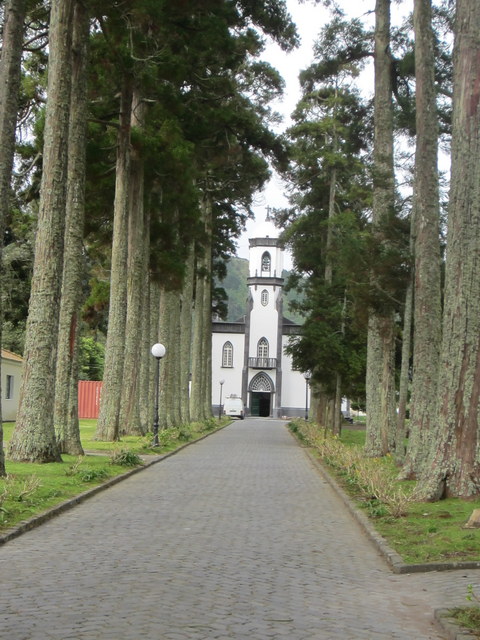 We took a slightly different route back to the airport with our driver taking us into what he said was a popular picnic area for the locals set along another mountain top lake. The clouds had by this point mostly retreated, it was still heavily overcast but the vistas of the island had properly opened up. On our way back down from the volcanic massif we came to a spot where we could see down the entire length of the island and from coast to coast. It really isn't a large place. Honestly as pretty as it is I'd really wonder if there's enough there to do to keep you busy for very long. Our tour lasted a little over two hours and we drove over a solid ¼ of the island I would guess? Yet as we boarded the plane later we talked to a number of people who had spent an entire week here AND had been before. I could definitely see the appeal in spending some time on Sao Miguel and some time exploring the other islands as well.
Back at the teeny airport we had a bite and settled in to wait for our flight. The final transfer from international to domestic at Pearson was the usual gong show but we eventually made it home more or less on time after what was about 25 hours of real time since we'd woken up that morning. All in all it was a fantastic trip. We definitely had our issues (luggage based and otherwise, in fact as I finish writing this almost a month after we got back we still haven't gotten our payment from the airline) but overall it was a fantastic trip filled with beautiful sights, friendly people and great food. I'd happily go back, not just to explore more of the places we went but also to go further afield, Porto and the wine country and more of the interior beckon for one. All in all the trip was a rousing success given it more or less all came about from 'oh, there's an RCI on Madeira, that might be interesting.' One thing that tempts me a bit now that I wouldn't have expected before would be one of the cruises we saw in Madeira, some of which apparently hit the Azores and the Canaries/Cape Verde as well.
Thanks to all those that followed along as ever and apologies for the lateness of the final post. As I think I mentioned I left for a wedding in California a week after getting back from this trip and have been playing catchup since. If anyone has any questions/wants any info please let me know.
Cheers and see you next time.