As ridiculously great as the boat trip had been, starting out back to Hanoi reminded me that I was still worried about potential closures. I'd also made the decision to fly south rather than take a sleeper train. Part of that was that you had to book the trains well in advance online but it also took an indordinate amount of time (the trains are not fast) and was only about 5-15 dollars cheaper. I'd also overheard some australians from the other boat say that there were at least 5 more flights today to Da Nang. Given that we were going to back late enough in the day that I couldn't really get a full day of sights in and that I'd decided to fly to my next stop regardless it seemed more sensible to just turn that day into a full on travel day and bounce straight to the airport. I was sorta torn between the next two hops but flying to Da Nang and taking a cab to Hoi An ended up being the best option and I'd figure out the next hop later.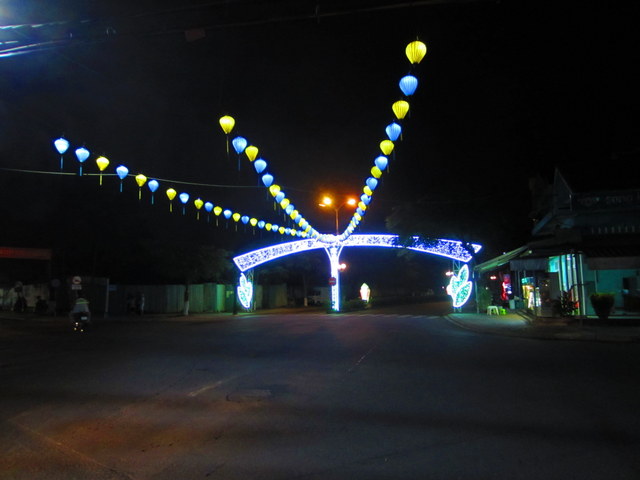 After what was assuredly not the world's safest flight on a discount viet carrier (though I got the exit row to myself!) I arrived in Hoi An and bargained a cabbie down to at least close to what the fare should have been. Hoi An is about 30-45m away from Da Nang but doesn't have an airport or train station of its own. Thanks to a delay on what was already a late-ish flight I was rolling in pretty late and I guess my cabbie had a hot date to get to or something as he was swerving around even more than normal. The concept of 'right of way' isn't really a thing in Vietnam but boy this particular cabbie get upset if he thought you'd taken away his. At one point a motorbike did an admittedly dumb left turn in front of him and we stopped to scream out the window at this poor kid and his girlfriend. Still, I arrived in one piece, eventually figured out I had to slide open what seemed like a crash barrier to get inside and checked in.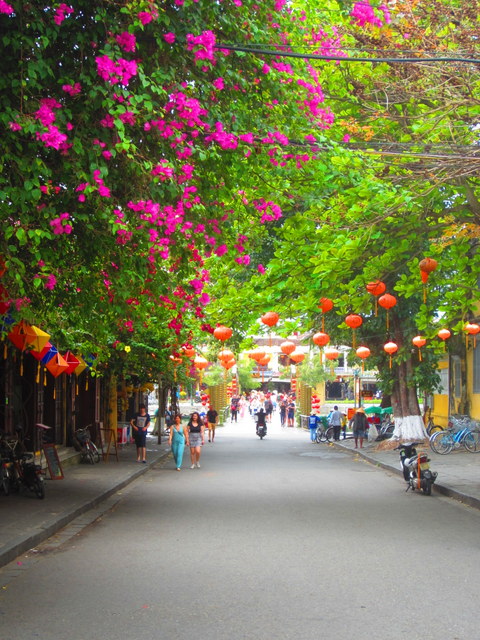 As an aside, my name is most decidedly not in the native Vientamese speaker wheelhouse and it's been fun seeing all the different ways it gets pronounced. Likewise I'm doing my best on pronouncing my Vietnamese but the tones are a difficult thing to handle.
Oddly though, this particular reception person acted as if she didn't have my reservation and I had to bring up the confirmation on my phone to get her to accept that I was expected… yet the moment I went upstairs she was closing down the reception desk so they were clearly waiting for me? After throwing my gear into the room I wandered out into town to see what was still open for food and the answer was… not much. I eventually found a bag of chips and some drinks at a mini mart then thank goodness a banh mi cart near one of the bars actually still open. (For reference I think it was around 9:45, but any place I walked by that was still open said the kitchen was closed.) Exploring the town later I think if I'd headed across the river some of the backpacker joints might have had food but I was tired and sated so I headed back for sleep.
In the morning I discovered why every single person who'd been there said not to miss it. Many years ago Hoi An was one of the primary trading ports of central Vietnam. Chinese and Japanese traders would live there parts of the year and conduct their business and eventually more and more roots were settled. Even after the Japanese withdrew into their bubble the town remained important until the river silted up. The resulting UNESCO world heritage site boasts a large number of ancient shop fronts and chinese community halls seemingly most of which are decorated with paper lanterns at night. The central core of the 'ancient town' is supposedly kept vehicle free for most of the day (I'd call this more accurately 'motorbike light' but it's better than nothing.)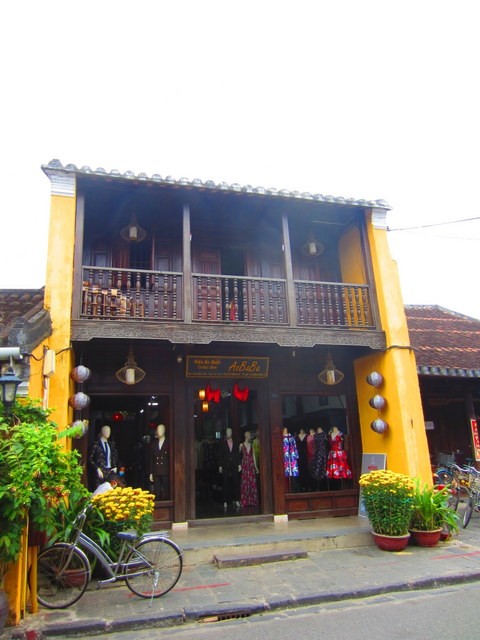 The strict restrictions on modification to the old buildings combine with standardized signage to make navigation somewhat of a challenge at first but it starts to make sense reasonably quickly. Of course, part of the issue is that seemingly 3 out of every 4 shops in Hoi An are tailoring shops. It's honestly mystifying how they all survive. There are several larger ones, most with multiple locations and a ridiculous number of staff, that seem to have the designations of being the safe ones for quality (and that charge the premium that implies,) but you can definitely get some solid deals if you do some research and walk around. I ended up ordering a blazer and a shirt from a lady called Anna in a small shop and stopped by a couple more times for fittings over my time in Hoi An.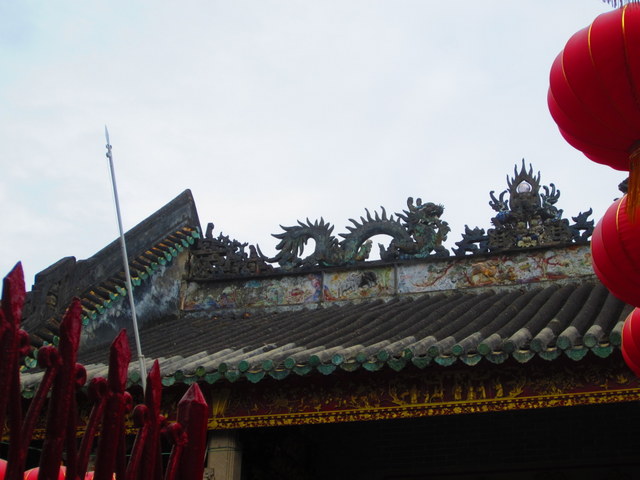 The Chinese and Japanese influences are everywhere. Assembly halls for the various chinese congregations dot the town and most can be visited as part of a ticket. The most noticeable Japanese structure is the japanese covered bridge that actually contains a shrine as well as statues that may (depending on who you ask) represent the years of its construction. It's all undeniably touristy but in a mostly satisfying way as the town charges admission (though it's mostly honour system unless you actively enter a hall) to help with the upkeep, and it's all in celebration of the heritage of th eplace. Hotels are all outside the zone as well though mine was satisfyingly close in order to be able to hop in and out for meals.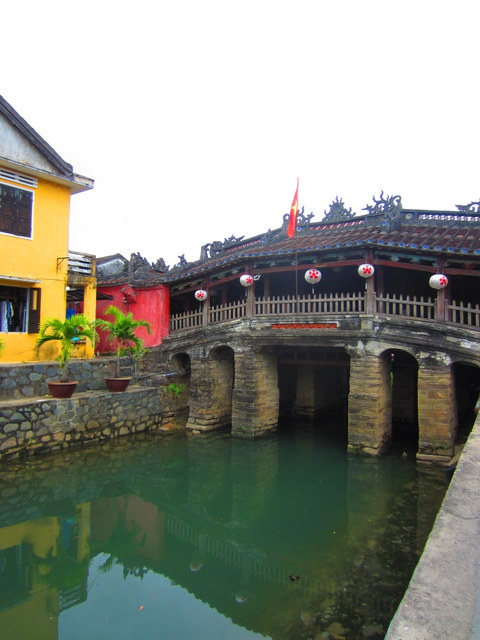 I spent that first day mostly exploring, doing my initial fitting as well as finding a tour for the following day. Lunch was at a neat little restaurant in the ancient town where disadvantaged/homeless youths receive training in cooking and serving. Here I continued my burgeoning tradition of trying every regional noodle specialty with the local Cao Lau. Tradition dictates that the noodles be made from/boiled in water from a specific well in Hoi An and that they be soaked in a solution made from the ash of a certain tree(s) from the islands just off the coast. As such you can't get 'true' Cao Lau anywhere else. This results in really chewy textured noodles which are then served with a porky broth, sliced five spiced pork and fried noodle squares as well as a heap of herbs and lettuce. It's a delicious combo.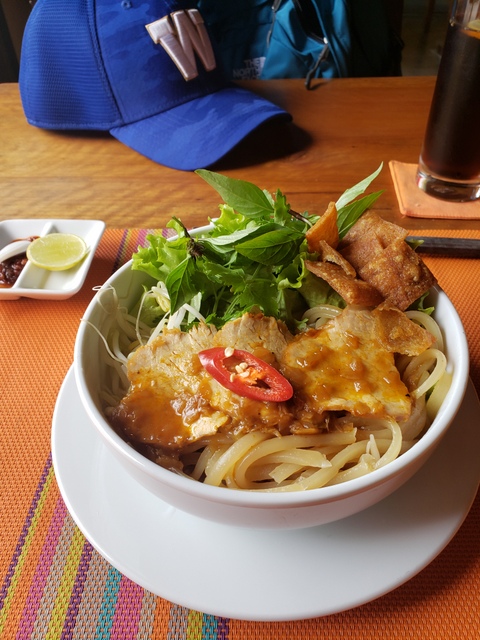 Moving to Hoi An had been a straight shot south and it's more or less at the start of 'south' vietnam. As such the temperature had shot up from the cooler muggy days in Ha Noi and Ha Long and it was around 30C. This wasn't quite as much of a brick wall as the trip to Bangkok a few years back but it was still hot for someone still in winter mode. So with everything else done I grabbed some cider at the store, took my laundry into a nice lady down the lane from the hotel and took a quick swim in the hotel's frigid pool before relaxing with a book.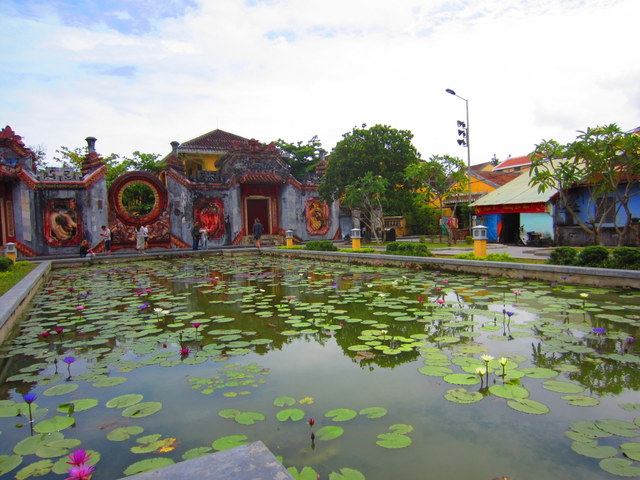 Around six I headed back out to check out the night market but on the way was absolutely blown away by the sheer number of beautiful lanterns that were now lit. I had obviously seen them during the day but I never expected most of them to be lit up. Adding to the colour explosion were the boats docked along the riverfront absolutely covered in lanterns lit with LEDs. I don't think the photos really convey the true effect of the explosion of colours but here's the best I can do: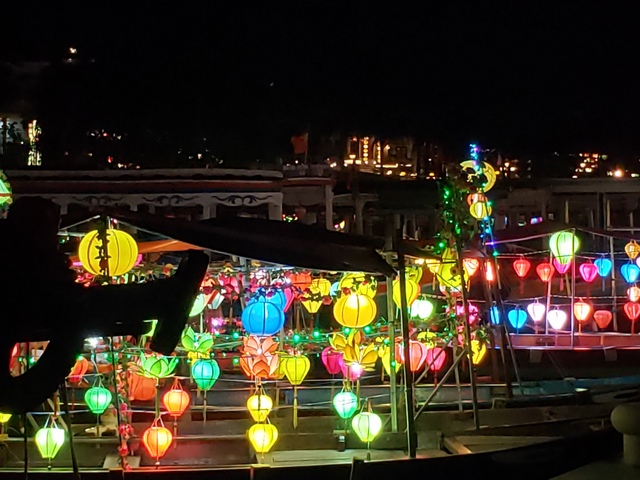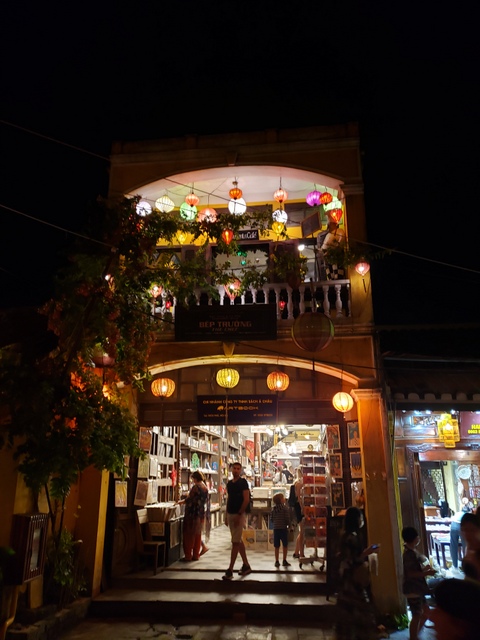 Unfortunately the night market was disappointingly food light. Mostly banh mi and banana pancake carts. I had been hoping for one of the sprung up food court style areas common at the thai night markets. That said it was still entertaining and in the end I grabbed a stool upstairs at one of the restaurants lining the street and listened to a very odd band playing very eclectic cover versions of Creed and Pink Floyd and Coldplay while the crowds wandered by. At one point as I waited for my food it started to drizzle and it was shocking how quickly every vendor pulled out a box of ponchos to sell. I'd brought my raincoat with me but the rain was so light (and basically finished by the time I was walking back) that I didn't bother.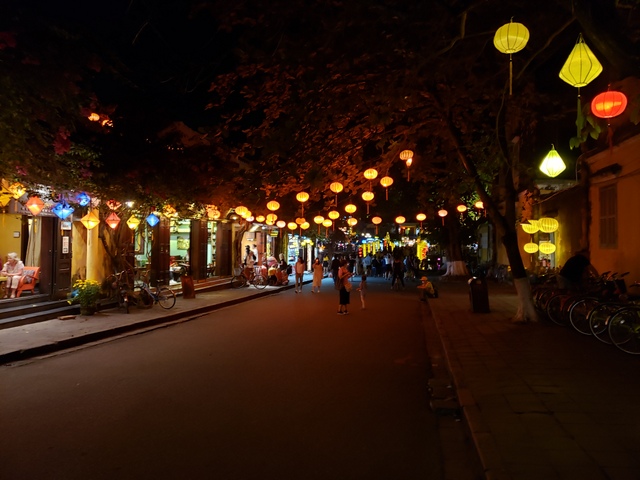 The action on the other side of the river was definitely a bit more hopping but I had an early morning so I walked back to the hotel as everything was shutting down. One interesting thing to see as I walked back just outside of the ancient town was in just how many of the more modern shophouses the family was sitting down inside the store to eat their evening meal. I suppose it makes sense as that's their largest room, but it surprised me how many of these places were essentially staying open while they did this. Having this in the back of my head on the other nights in town you could definitely hear people doing the same in some of the closed shops as well.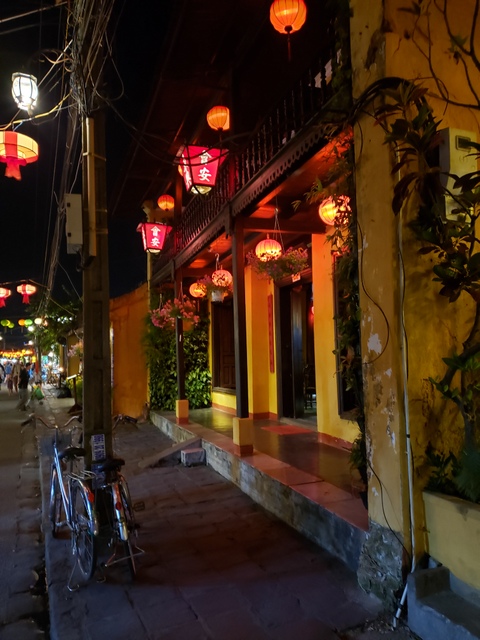 ---
Day Two in Hoi An started early. A quick stop at the hotel's excellent (included!) breakfast for some eggs, a croissant and some dumplings. Today's agenda was a tour out to the local-ish ruins of a sanctuary of the Cham people. The Champa kingdom of the era of these temples were a people with strong ties to India via trade and who adopted hinduism and sanskrit. Their temples are very much in the same vein as Angkor Wat et al and were rediscovered by the French during the colonial era. Unfortunately the area also sheltered a Viet Cong base during the war and was bombed significantly by the USAF. To this day the surrounding jungle remains unsafe due to potentially unexploded ordnance and land mines. Preservation work is also ongoing with various international cooperation projects helping out the Vietnamese government.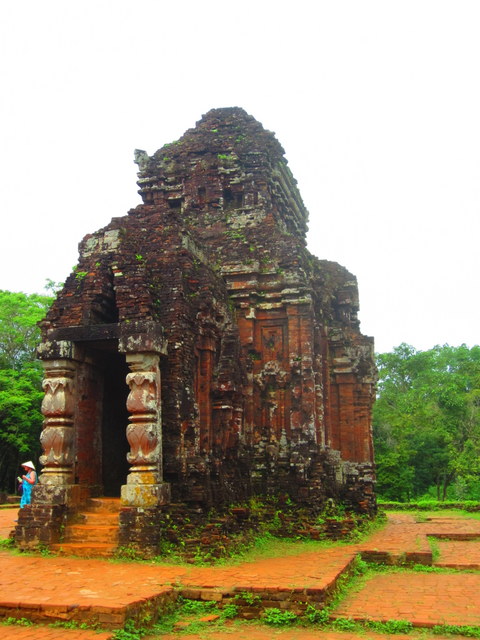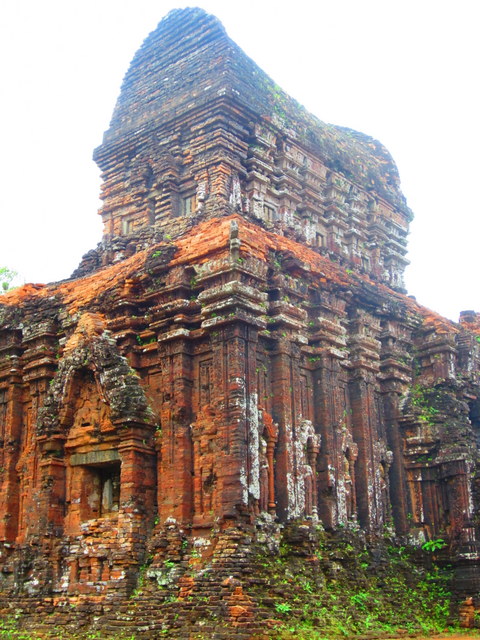 Touring the site made the previous days heat seem like child's play though as this was the first day the sun really came out on the trip, though it would dodge in and out of heavy clouds all day. While back in Hoi An this was offset a bit by the occasional hint of a sea breeze from the coast a few km away, an hour inland surrounded by jungle it was just stifling. The site is pleasantly remote and the government has set up a small road to cover the last few kilometers down which you are shuttled on small electric carts along which you'll see a number of the dogs that roam the site.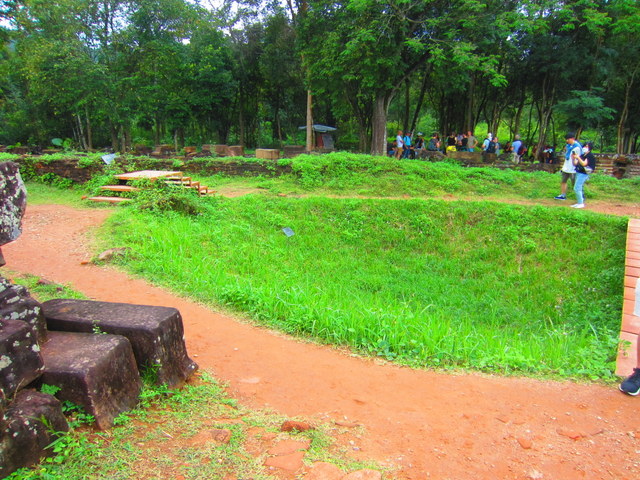 The site itself is definitely battered. Most of the largest buildings were destroyed in the bombings and here and there there are some truly massive craters that show the power of what was dropped on the site. What remains is quite impressive however, though there are missing pieces even from what survived. Some of the artifacts which were removed from the site are in the Louvre, others in a museum locally in Da Nang. Our tour guide somewhat hilariously blamed the french for the latter as well calling them 'stolen' and while I'm sure some of the Da Nang artifacts were taken there by the French there are numerous plaques on the site denoting some object taken to that museum in the 80s or 90s. The ongoing rebuilding/stabilization efforts are nice to see though, even though it kept us from seeing the ruin of the largest temple which looks like it was truly magnificent before the Americans finished it off.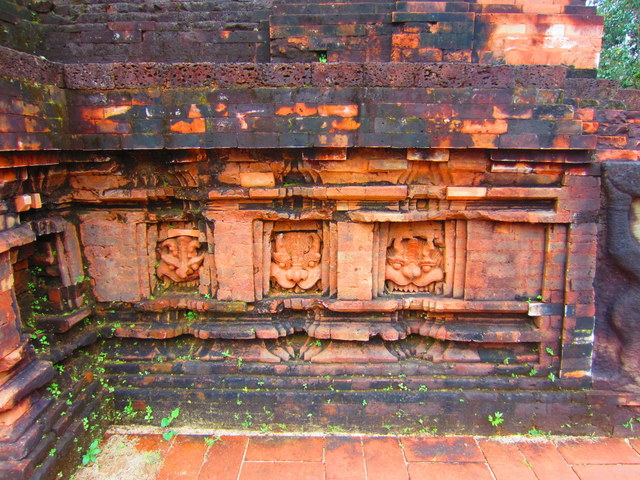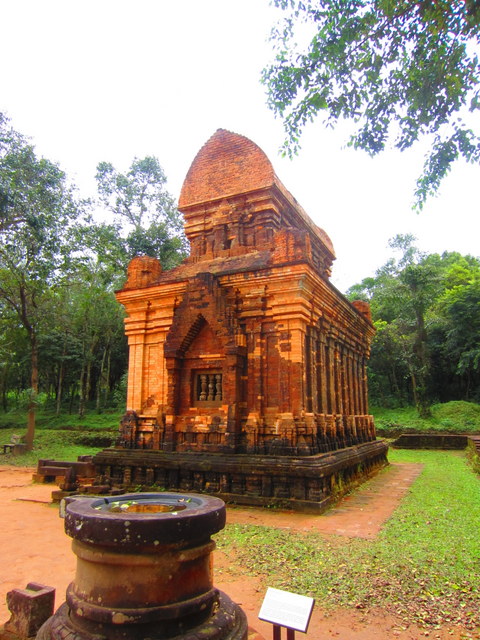 I'd sprung for the boat return part of my tour which turned out to be a mistake as it involved doing 3/4 of the trip back on the bus then transfering to a tiny boat to go down a mostly featureless length of river and be given a plate of rice and vegetables + a banana. Unexciting, but at least they dropped us right back at the ancient town. Still hungry after my 'lunch' I decided to try out Banh Mi Phuong, energetically recommended in Lonely Planet and a couple other guides to eating Hoi An I'd read. Oh my god… the BBQ Banh Mi here is life changing. Loaded with 4 or 5 variations of pork, veggies and on the crispest outside, softest inside bun. All for like $2 cdn.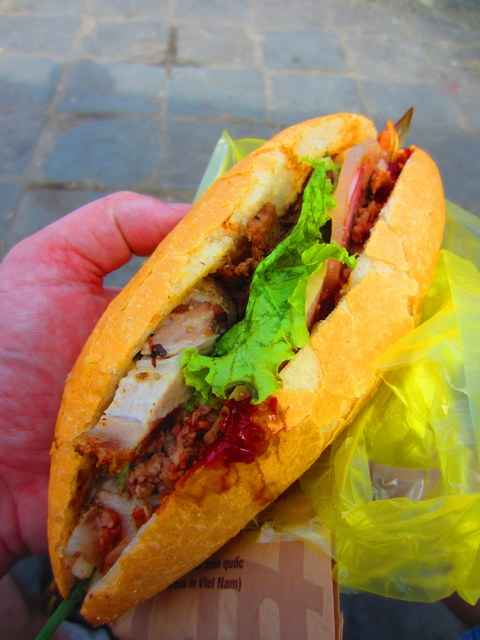 ---
The next day I hadn't actually planned to still be in Hoi An but the combination of my clothes not quite being ready and not being able to book my preferred transfer to Hue for another day I decided to have a lazy recharge day. Unfortunately I was let down by my otherwise solid hotel. Most of the hotels I'd been choosing from had offered free bike rentals but I guess I didn't notice that my final choice didn't. Whatever, it was like $1.50… unfortunately it was a bike that even my mother might have found a bit short. Their provided map was singularly terrible too being basically only of use to find the ancient town, which to be fair probably serves 90% of their clients well. I should have drawn myself a better one from Google Maps but alas…I trusted them.
Turns out that map doesn't properly point to the beach and instead (and after having to double back a bunch) I ended up at the very battered 'beach' that had been destroyed by development over recent years. While it's still a pretty view of the ocean it's from a small patch of sand behind giant sandbags that I gather the long term plan is to slowly rebuild from. The lack of a safe swimming area combined with what I remembered being told were strong currents at this time of year and some really crashing waves that day meant I really just paddled my feet and instead mostly sat on the sand and read a book for a few hours. I'd picked up another BBQ Banh Mi after my fitting and grabbed a can of strongbow so lunch was on the 'beach' as well. Getting back to the hotel was easier but in the heat and awkwardly peddling a bike with my limbs folded to fit my day of relaxation was somewhat undercut. In the end I ended up by the ice cold pool again soaking my legs while I read.
Dinner that night was another round of Cao Lau, this time accompanied by White Rose Dumplings, another Hoi An Specialty of steamed rose shaped white rice dumplings stuffed with pork, shrimp and local herbs and topped with fried onions. I took one last tour around the lantern lit old town before heading back to pack… only to have the hotel's entire city block lose power for an hour just as I started. Thankfully just as I gave up and went to sleep it came back on so I didn't have to set an alarm for dawn just to be able to get everything just so (adding the new clothes) before my 8am pickup.

---
I was surprised at how much I liked Hoi An. Several people had recommended it and I knew I didn't want to miss it but it was honestly magical. The combination of a distinctly non western identity to most of the town (you won't see any chain restaurants,) friendly people and truly delicious food made it just right up my alley. If I ever return to Vietnam I hope I can visit again. Heartily recommended, just make sure you stay in Hoi An proper, the bus tours of old folks coming down from the Da Nang beach mega resorts looked like the saddest way to see the town.