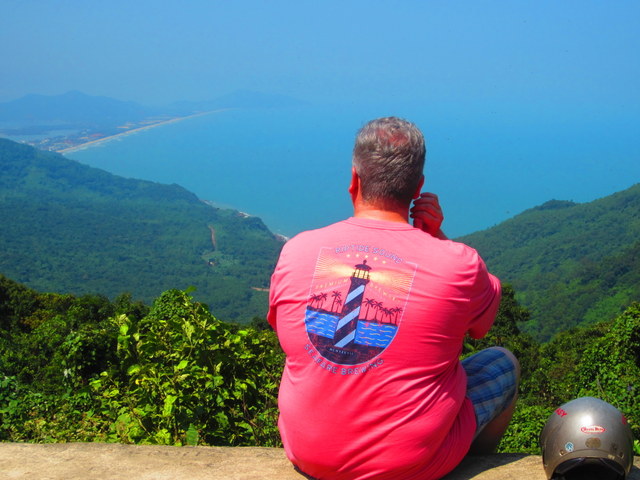 Those of you who are old version Top Gear fans may have watched the Vietnam special they did many years ago now. The middle section of the special has them having (silly) suits made then driving their bikes over the Hai Van pass between Hoi An/Danang and Hue. This is the point where if I recall correct Jeremy briefly starts liking biking and all three guys are in awe of the view. Originally I'd planned to do this journey too but in the opposite direction, but the flight issues I mentioned in the last post made it easier to do it this way then fly out of Hue or (as eventually happened) just backtracking on a short leg of the train. In doing some research I'd found a good small company that took you across on motorbikes for all of $40usd which sounded tons more appealing than a tourbus.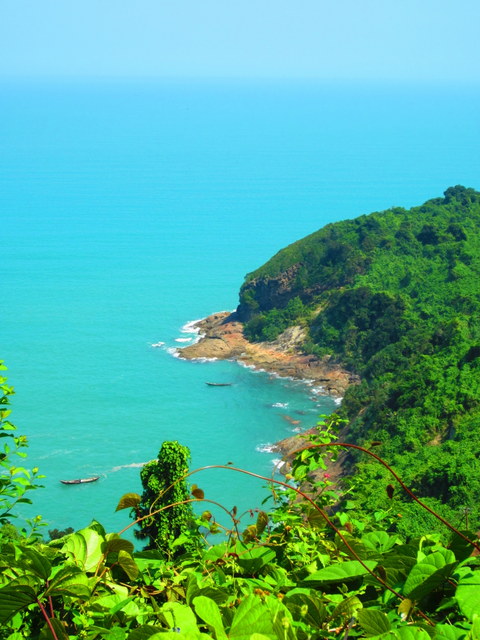 One last great breakfast at the Hotel Hai Au (as always I also use this blog as a reminder for myself 😉 ) then out front to meet 'Dr. Phu' who plastic wrapped my pack then loaded it all up on the bike before we set off. I'd fully expected this to be a pretty direct trip with a few photo stops but Dr. Phu was intent on showing off his country as best he could entirely to my delight. We exited Hoi An by zig zagging through the rice paddies surrounding the town (some of which I'd wrong turned by on the way to the beach the day before) then moved on past shrimp farms and the 'vegetable village' that apparently grows much of the produce for the restaurants in town. I was amazed at how many small guesthouses were even out here but the 'homestay' concept is popular with some visitors here, though I imagine you'd want your own bike staying some of these places. It was probably an hour before we actually hit the road back towards Da Nang.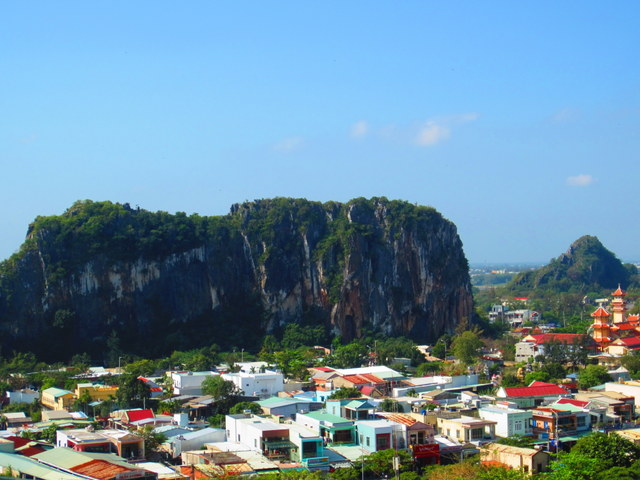 Our first actual stop and chance to rest my poor still not fully healed (c'mon already) tailbone was the Marble Mountains. These are five marble monoliths on the outskirts of Da Nang which are named for the elements and have pagodas and shrines dotting them. Surrounding the bases are marble carvers though the villagers now import chinese marble rather than further mining from their tourist attractions. Again, if you watched the top gear special this is where James' present came from.
The major one of these Marble Mountains is Thuy Son or the Water Mountain. A quick trip up in the world's hottest elevator revealed a gorgeous garden of sorts, paths carved everywhere between Pagodas and natural caves housing shrines. The one downer was of course that a mega hotel is being constructed between the mountain and the ocean, spoiling the view completely.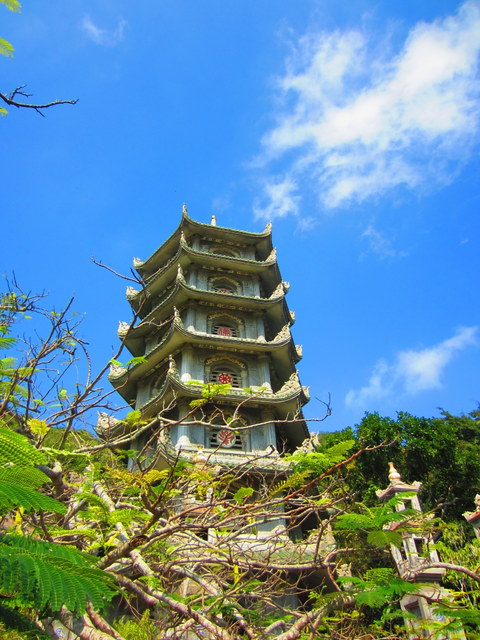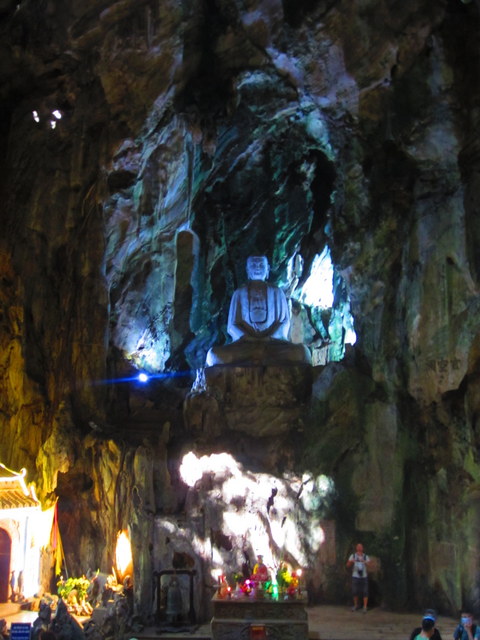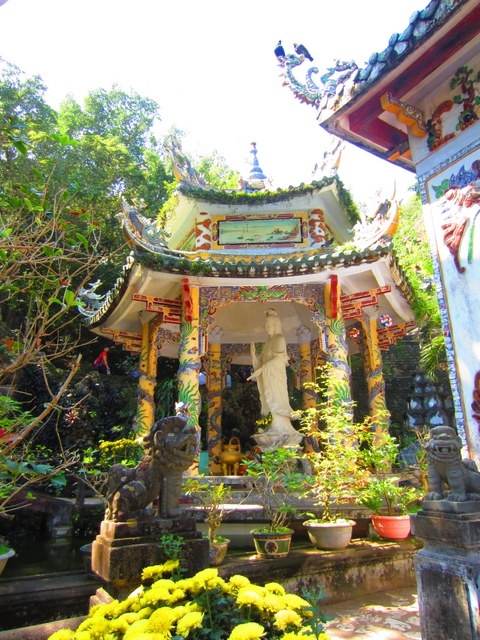 Back on the road we snaked through the busy streets of Da Nang, crossed the Dragon Bridge, (An arched bridge with dragon heads added as though it were a sea monster) and started heading up the coast. A tunnel was completed somewhere around a decade ago which thankfully cuts the traffic down though fuel trucks and others still have to use the pass. Dr. Phu stopped us just up the first couple switchbacks where there was a superb view of the beach already far below and a glimpse of the train track I'd return on in a few days time. What a phenomenal view, especially on probably the best day I'd had weatherwise thus far.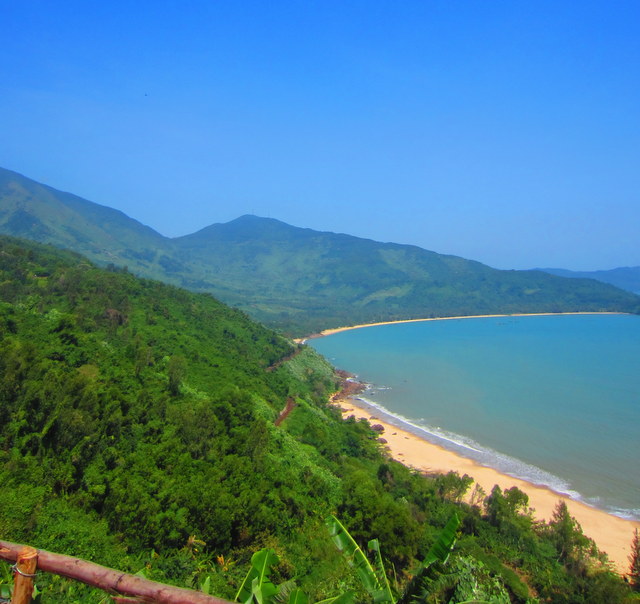 We stopped several more times in the pass for photos. Not so long ago this region was the extreme north of South Vietnam and the pass was an important military site. The former DMZ lies just north of Hue but even here at the top of the pass there are the ruins of a former lookout station/bunker and bullet holes still clearly visible everywhere. The view in both directions is phenomenal, winding tarmac zigzagging down to the sea in both direction, unfortunately the all too everpresent garbage problem in Vietnam is pretty bad as well.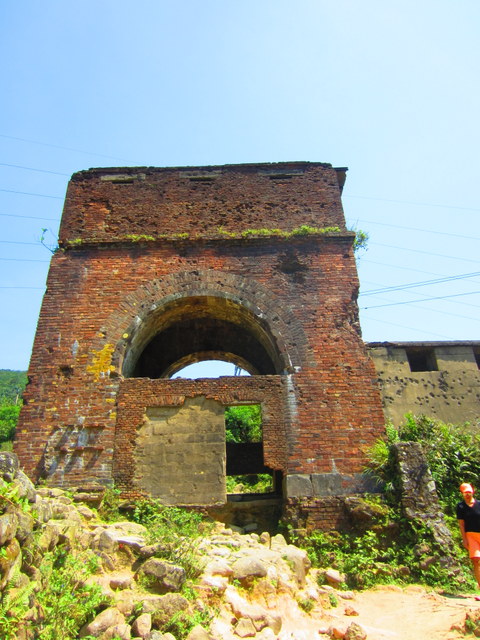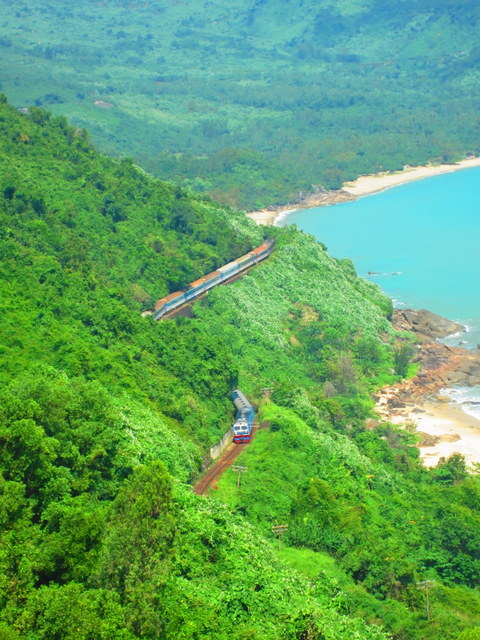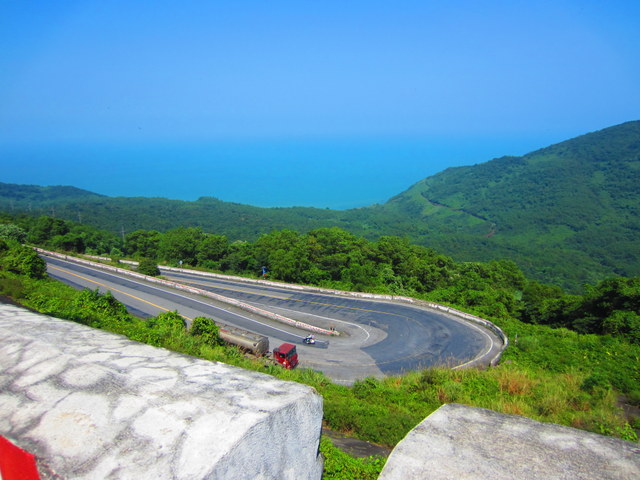 Now at the bottom of the pass we arrived at a fishing village called Lang Co. There's a series of lagoons along the coast here with semi salt water and a large number of oyster farms. Phu showed me in his words the 'fancy fancy' restaurants then took me to a place he said locals eat. I suspect it's more likely 'place he gets a small commission' but there were definitely a good mix of locals and tourists and I got a lounge chair under a palapa staring out at breaking waves and eating some reasonable food. At his insistence I tried some local scallops done in chili and peanut, scallops are not usually my thing but these were delicious. I also had a cider and some shrimp noodles and just enjoyed the view and the breeze for what felt like a couple hours. Dr. Phu was actually from Hue so he was in no great hurry.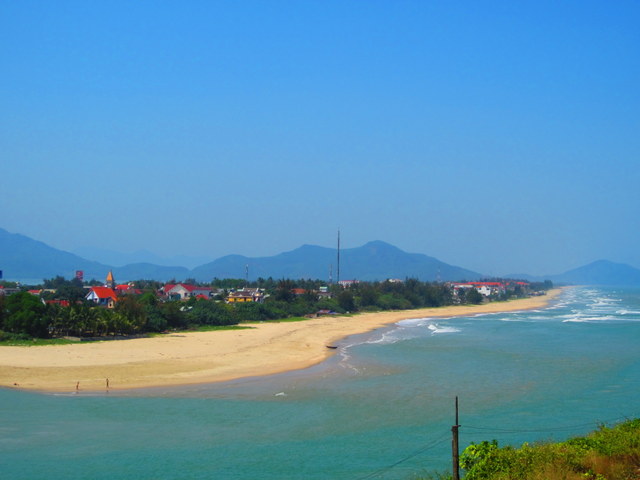 As we moved onward eventually he continued to take us along the road less travelled hitting a couple of minor passes rather than taking tunnels and eventually winding up at a local swimming spot called Elephant Springs. I wasn't expecting this (nor did he really explain) so I wasn't wearing my suit but in the end no regrets. Reading the reviews of this place afterwards I gather it's a mega scam in busy season. Basically a rushing crystal clear river that forms a series of natural pools as it drops down there are bamboo huts with mats along the edge all the way down. I gather if you're here on your own motorbike as a tourist you get charged the admittance fee then someone tries to charge you to swim, to sit in a hut etc etc etc with trash everywhere. I think because of the time of year mostly what we saw was locals rebuilding the huts. Apparently it floods quite severely in the rainy season and washes everything away… They should take the hint. The reviews on TripAdvisor make it sound awful with people putting up tarps and whatnot to make extra pools and basically just messing with what was probably originally a very naturally gorgeous place. The fact that we were off season and the place was just setting up again saved us from the worst of it and it was nice to cool off by dipping my feet in the water but still kind of sad. I hate to keep comparing the two countries but when I was at the falls in Kanchanaburi in Thailand there were such strict controls about bringing any plastic in and everything stayed pristine as a result.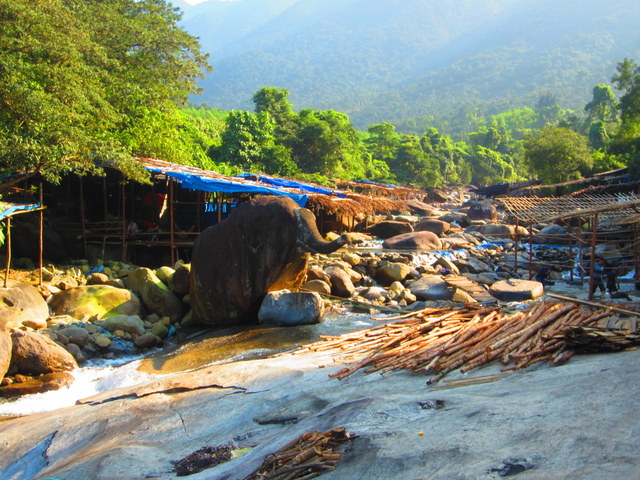 As we made our final run in to the old imperial capital of Hue it was some mildly exciting highway driving with a couple minor stops for photos. I was glad to get off before it was fully dark but overall it had been a spectacular (and much fuller than expected) day on the bike. With a thank you and a hefty tip I sent Dr. Phu home to his family, checked in to a hotel room with a bathtub!!! (that I later found out wouldn't hold water) and headed out to explore the cuisine of Hue.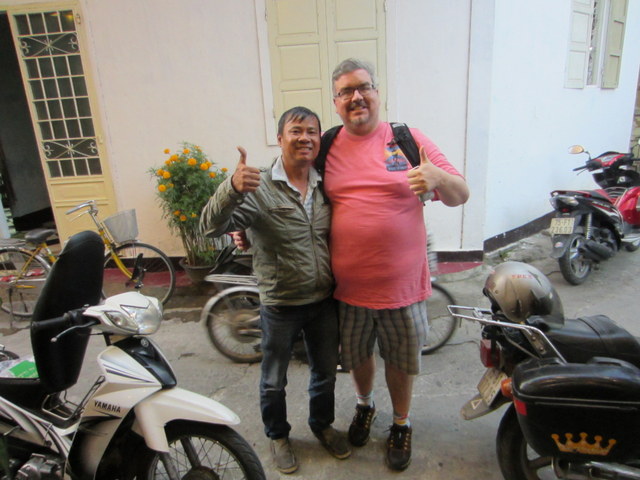 I'd seen the same recommendation three different places and boy did it not disappoint. 130000 Dong ($7.50) five course set menu to try a bunch of 'royal' Hue specialties. It all came at once and the tiny woman who brought it all showed me how to eat the things I'd never seen before. Little Banh Beo steamed rice dumplings with shrimp and green onion that you poured a bit of sauce on then shot almost like an oyster. Banh khoai which are like an extra fried banh xeo just encrusted with shrimp. Fried spring rolls and fresh rice wrapped charbroiled pork, the juiciest things with peanut sauce. And Nem Lui, lemongrass pork grilled on a skewer of lemongrass that you then wrap with veggies in rice paper and go to town on with more sauce. Definitely one of the highlights of the trip so far meal wise.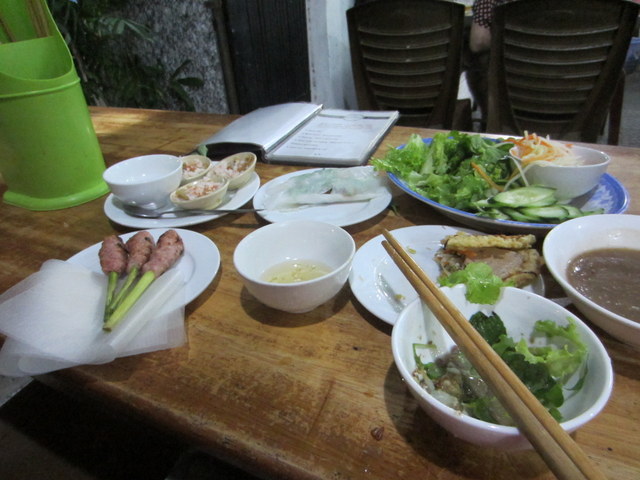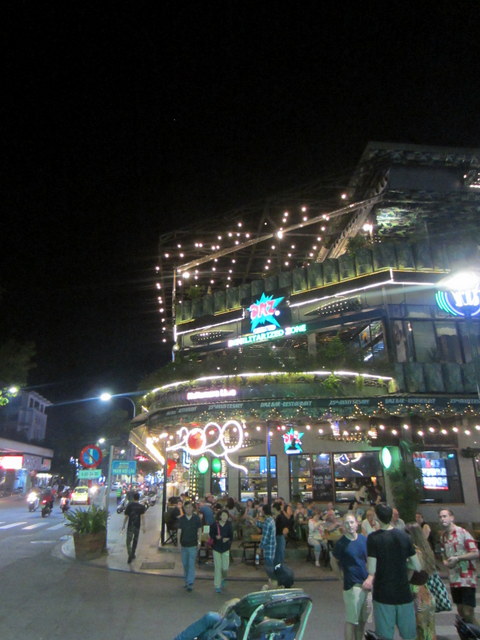 The big attraction in Hue is the Imperial Citadel which was the seat of the monarchy in the 1800s up until the end of the dynasty in 1945. Most of the other side of the Perfume River is encircled with massively thick stone walls with narrow archways constantly flooded with traffic. Things could definitely be set up better but eventually you arrive at the inner citadel/enclosure and buy your ticket. As with seemingly every other cultural site in central Vietnam the Americans did a number on this one too, though the French went to town as well. According to my guidebook only 20 of 148 buildings survived. Soon after entering you can see a well done video where a South Korean university has done graphical reconstructions of some of the areas. Restoration work is ongoing however and some of the remaining structures are breathtaking.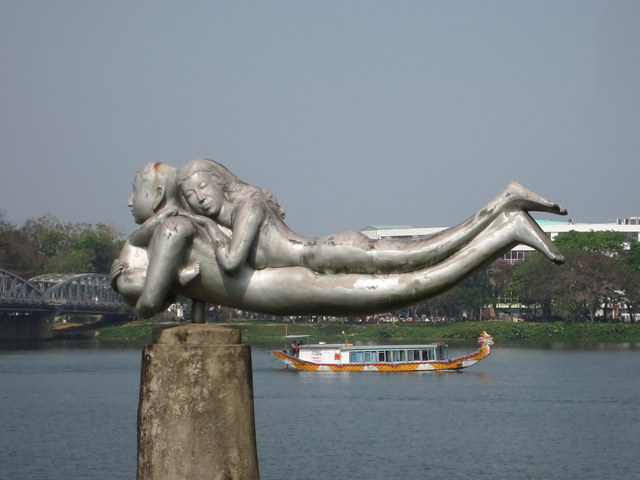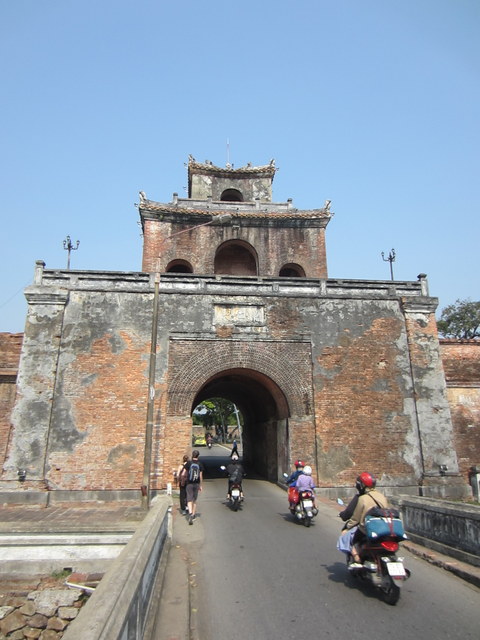 It was a baking hot day for exploring and despite buying some extra water on the way over there was definitely some extended breaks when I found a particularly shady and breezy spot. Highlights of the enclosure were probably the front gate and the main audience hall as well as some of the surrounding temples. The detail work in some of the tiling is just breathtaking and I loved the lanterns.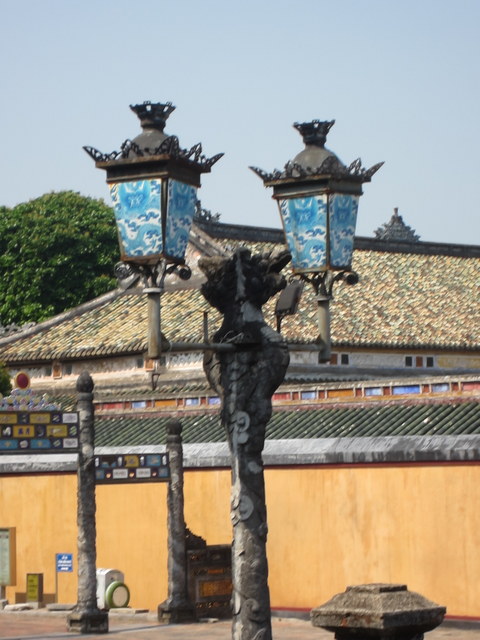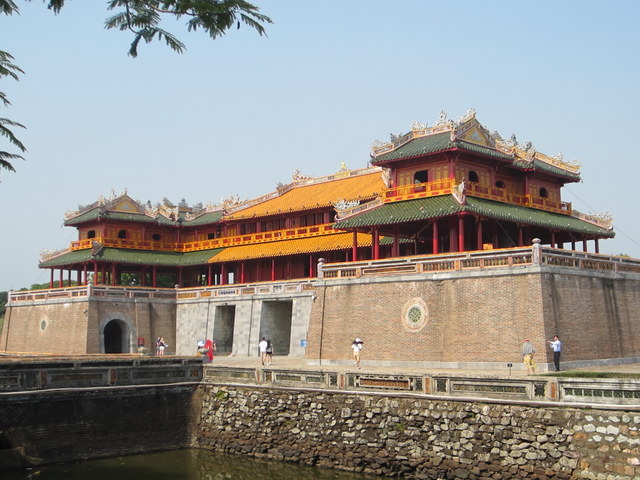 A solid bird will be flipped to Lonely Planet for recommending doing it counter clockwise when you can't actually exit back through the front but have to go out the side which meant a fairly massive detour to get back to where you originally came in. Something's probably changed since this edition of the guidebook came out but it makes absolutely no sense how they've arranged things. You think they'd want to make things easy on pedestrians. Still, it was 100% worth the visit. I finished off the afternoon with a late lunch of a bowl of the other Hue specialty: Bun Bo Hue, a beef noodle soup to die for. Despite that fact that I love it, despite the fact that I was starving, a small bowl at this recommended place absolutely destroyed me and I barely finished it before sloshing back to the hotel for a shower.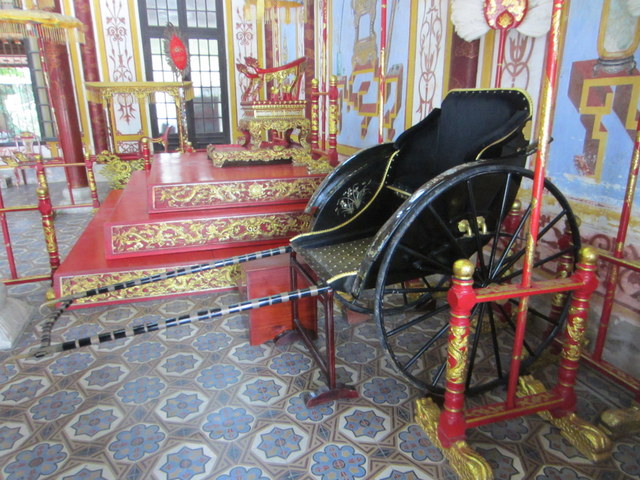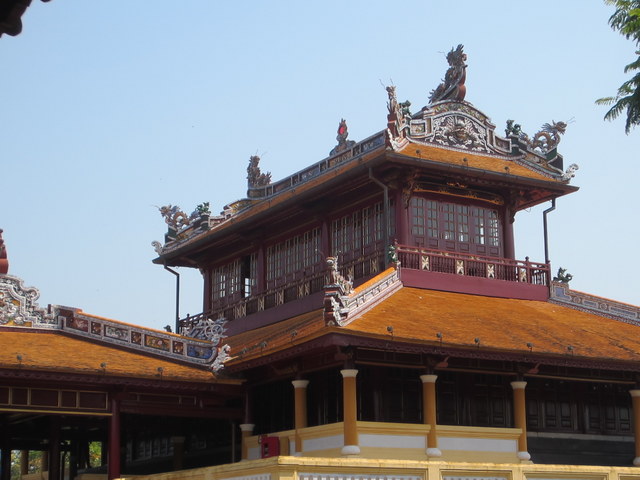 In order to make my flight the next morning out of Da Nang I was having to take a fairly early train, so I spent my evening having a few drinks and some appetizers at an odd little bar in the tourist zone listing to a band play surf-y covers of pop songs until I figured it was bedtime. I wouldn't have minded spending another day in Hue and heading out to some of the surrounding stuff but in order to have time to see Saigon and still go diving I figured this was the best plan. There's always next time.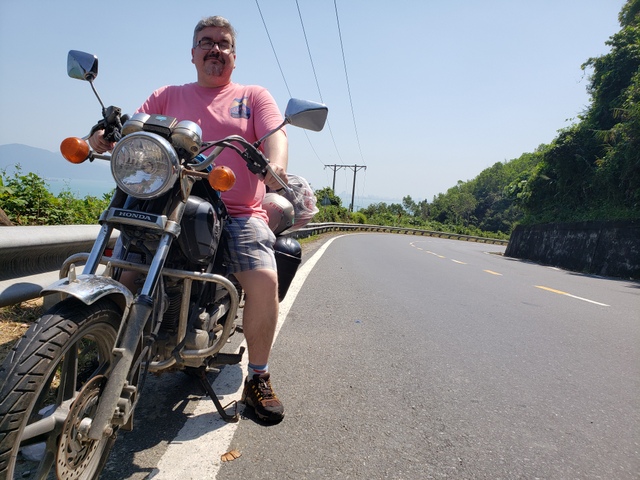 This was a really great section of the trip, if you're in the area I can't recommend Dr. Phu and HueToGoTours enough. I would imagine you can hire him for other tours as well but the Hai Van pass was definitely a fun thing to check off my list. I really appreciated seeing more of the countryside and getting to stop and look around places without a busload of other people right on my heels.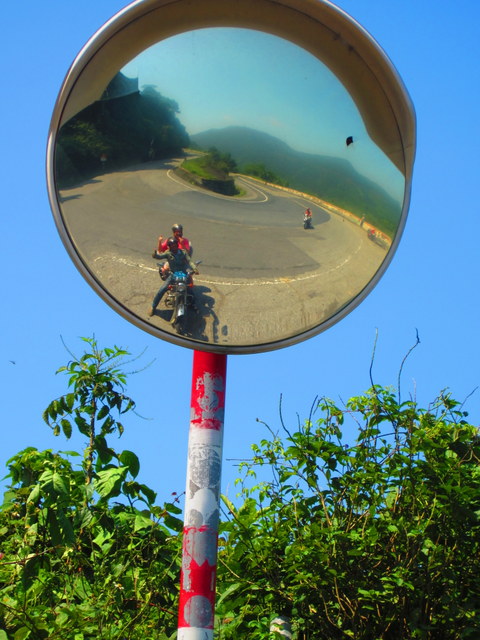 Up next: Ho Chi Minh City/Saigon