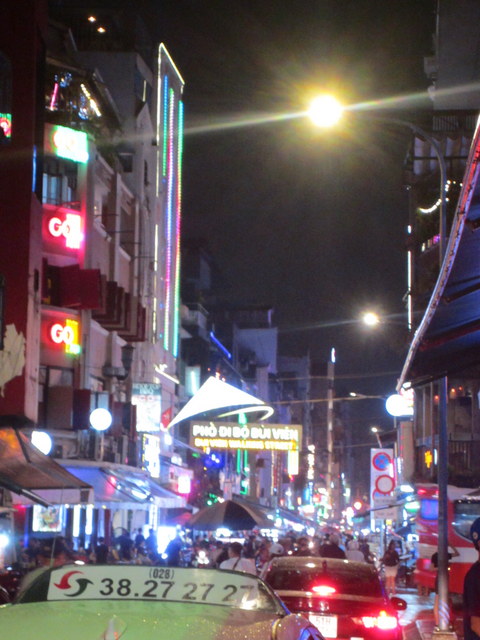 I'm flying around a bit more this trip but that's a factor of Vietnam's relatively slow trains/buses vs. cheap flights. I'm guessing between the wars and the proliferation of motorbike culture since the country opened up there hasn't been much priority on upgrading what was originally built by the french in the late 1800s. There's certainly no high speed passenger portions of the track that I can see and the route frequently hugs the coast making for beautiful views… and 18 hours to cover 500km distances.. Unfortunately while I had some interest in the areas between the central coast and Ho Chi Minh City/Saigon it became a question of priorities and unfortunately with having to take a train bus combo part of those options it was just going to take up too much of my remaining time. Still, it doesn't hurt to have things you'd like to come back and do next time.
I did take one train trip however, the previously discussed hop back down the coast from Hue to Danang. This was a short one but flights were significantly cheaper out of danang on the day in question and the train ticket was $4. I had hoped I had a window seat for the lovely coast but unfortunately the jokers at Vietnam national railways flipped the orientation from what was shown on the booking site.
The Vietnamese train experience was an odd contrast to the Thai one, simultaneously more advanced and more backwards. The one positive was that booking online gave you an e-ticket that was perfectly valid to board the train, the negative being you can't pay for anything on the actual site with a foreign credit card and thus have to pay a commission to a broker. I ended up doing the same in Thailand of course but it was worse there as you then had to go to the broker's office near the train station in order to pick up your actual ticket. The trains themselves were nicer in Thailand too, though quality depends on the specific train of course. I was in second class soft with AC which is pretty standard backpacker travel, the sleepers are apparently a bit nicer in terms of accommodation but also aren't as good for the daytime travel. The Vietnam trains often include private first class cars bolted on the end as well so if you're travelling as a group that can be fun getting a slightly swankier experience… though depending on where you're going you're likely paying more than a flight. Still, I'll give a sleeper a try next time I'm in Vietnam I think.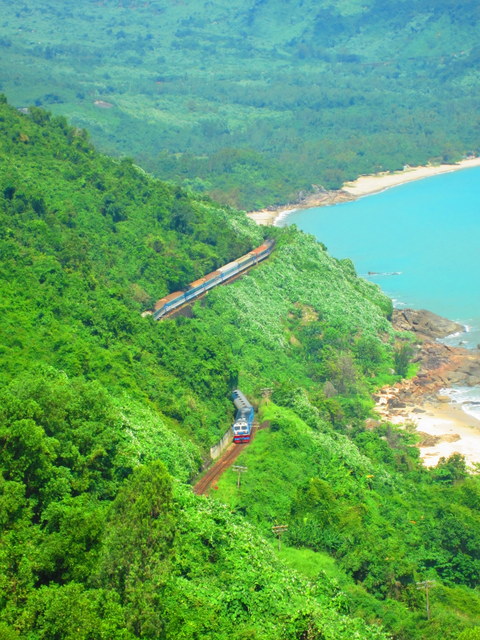 Despite being on the wrong side facing backwards the views were still great, I just didn't want to be that guy getting up to lean over and take a photo. That same azur blue sea sparkling beneath the steep drop I'd seen from above on the bike. It took us a couple hours to roll into Danang at which point I transfered straight to the airport and on to Saigon.
---
Saigon is definitely more like what I expected Hanoi to be. The motorbikes are even more insane, everything is denser and the air quality is not great. Simultaneously it's also more old fashioned and noticeably more french. Wide boulevards with large pedestrian paths are much more common and the architecture has noticeably brutalist soviet style presences. Riding downtown from the airport one got a definite feel of a more cosmopolitan city, whatever pretensions Hanoi has to being more cultured, though perhaps I'd feel differently if I lived in both places a while.) The bus ride into the city even had the curious diversion of a short stop for what appeared to be young ladies from the health department in cheerleader outfits handing out facemasks as part of the coronavirus measures. Unfortunately this stop turned out to be my first mild stinker of a hotel. Nothing major, it was clean and 'ok' just a tiny windowless box, the only benefit of which was quiet and a location close to most of the sights in District 1.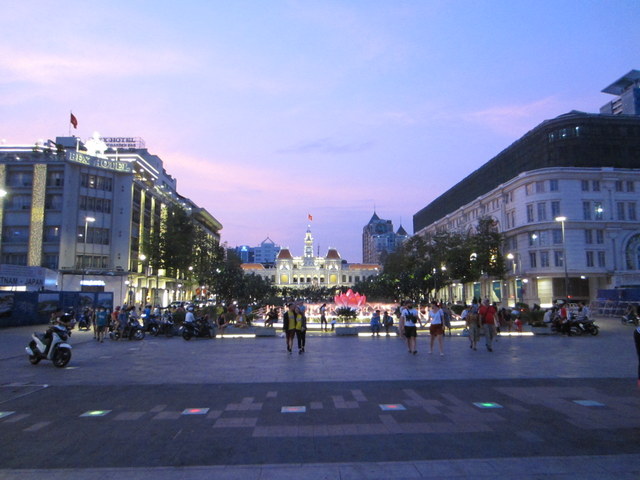 District 1 is basically the center of town and contains (or is near) the backpacker/budget hotel district… The fancier wannabe champs elysee area with the high end hotels and the swankier restaurants… And the 'diplomatic' area with a bunch of the consulates and the former presidential palace/now museum. It's also close to the Ben Thanh night market which I decided to check out the first night. It turned out to unsurprisingly be mostly the same old tourist tat but nearby was another area marked as specifically the Ben Thanh Street Food market and that was delightful. Far too cramped as it's crammed into a tiny lot rather than in a park setting but at least it had a second level of seating. After browsing around a bit I got a pork and shrimp banh xeo (vietnamese fried pancake/omelette thing) and a lemongrass chicken skewer with a peanuty sauce. The band pictured below were quite energetic. Sated and somewhat wiped from all the travel I tried my best to watch a soccer game and have a beer or two back closer to the hotel but I didn't last long and retreated to my cave.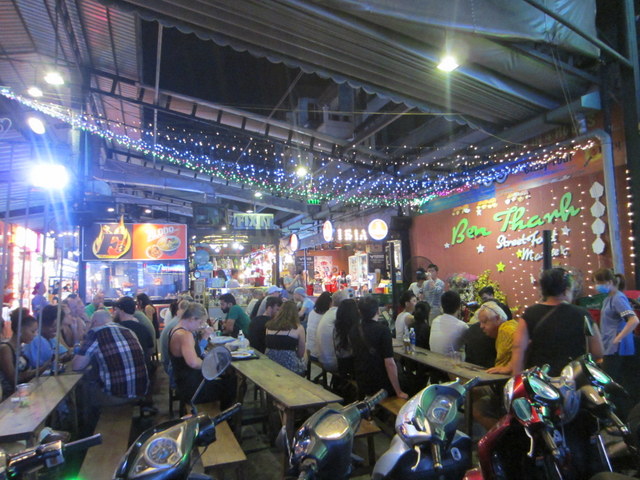 After a bit of a sleep in (the first time it's been quiet enough to do so) I set out to explore a bit more of Saigon. First stop was the Reunification Palace which is the former presidential palace and site of South Vietnam's official surrender to the NVA. The original home on the site was that of the Governor General of the region under the french occupation before becoming the presidential palace during Diem's regime.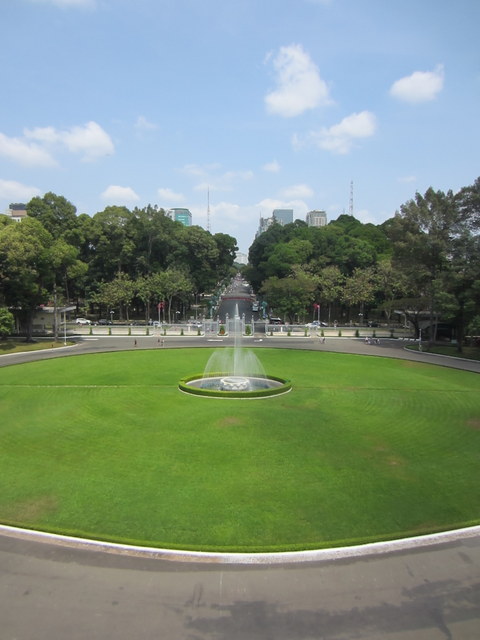 Being the swell guy he was Diem's own airforce decided to try and kill him and flattened the original building. This replacement was built during the war years, Diem getting killed in another coup attempt before it was finished. After the NVA tanks broke through to raise the flag it wasn't used for much until being opened as a museum so it's a pretty great time capsule of 60s architecture and design.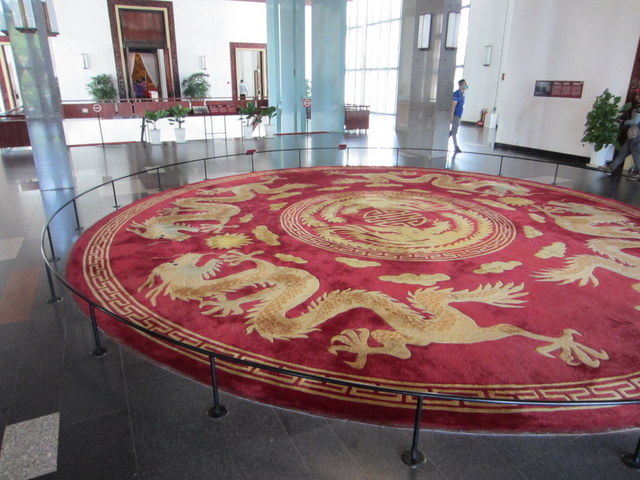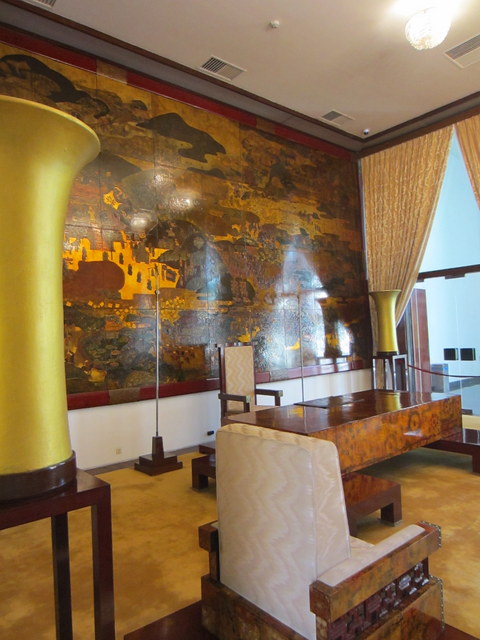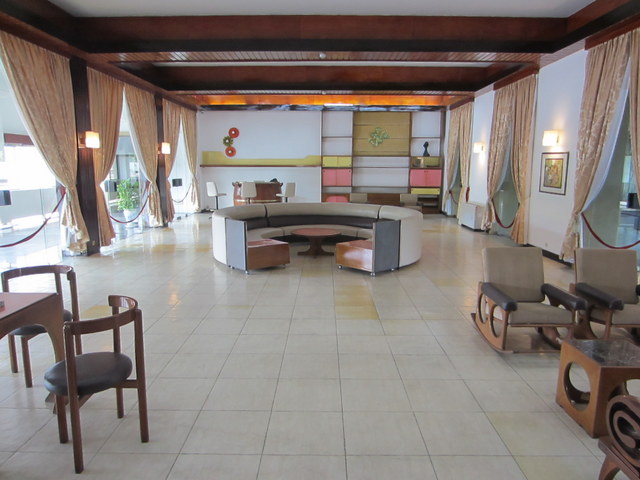 My map let me know that one of the restaurants that had sounded interesting was nearby on one of those wide european looking boulevards. Called Propaganda it did fancier versions of street food from around Vietnam in a trendy bistro lined with old propaganda posters and murals based on them. Really tasty and with some amazing (though overpriced imo) fresh fruit smoothies. It was interesting but honestly felt like someplace in the Bay Area or Vancouver.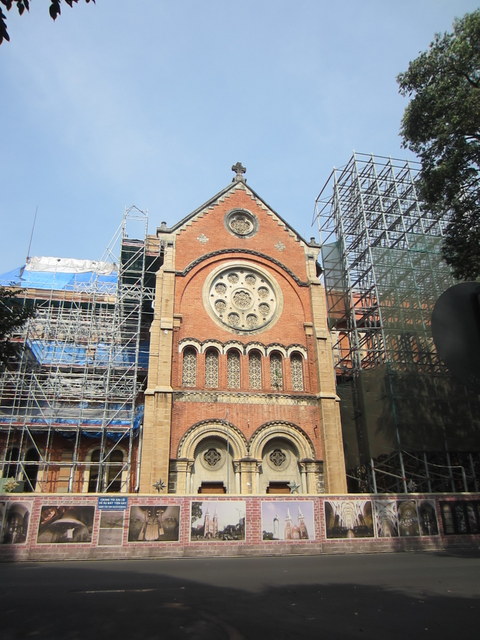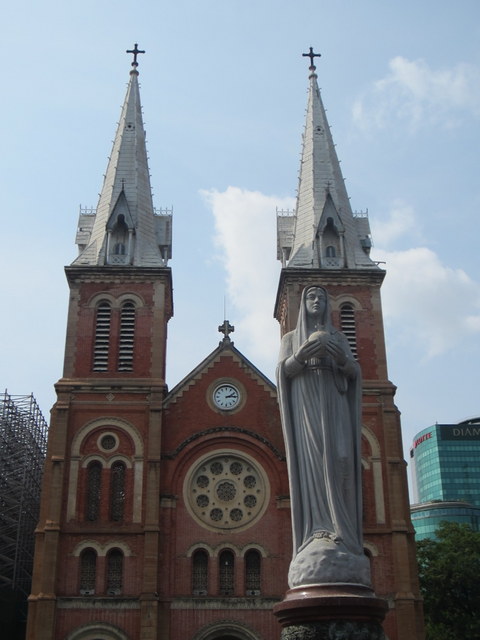 Next up was the latest stop in the disappointing asian churches tour! I joke, I joke, but turns out that Notre Dame in Saigon is getting the TLC that St. Joseph's in Hanoi so desperately needs. Unfortunately that meant it was covered in scaffolding and closed to visitors. The nearby late 1800s french built post office was fascinating though with historical maps on the wall and Eiffel reminiscent ironwork.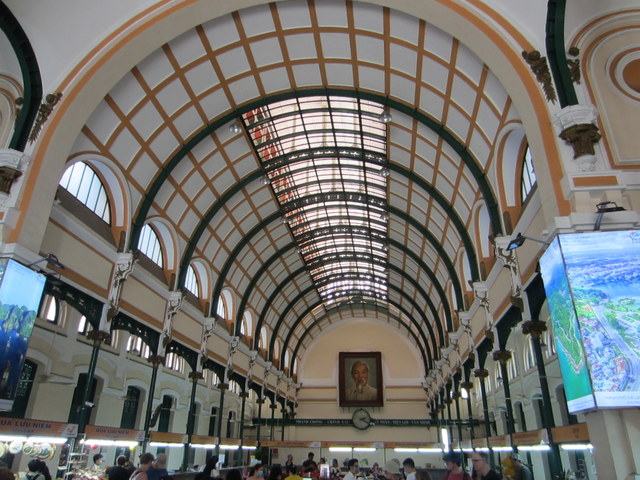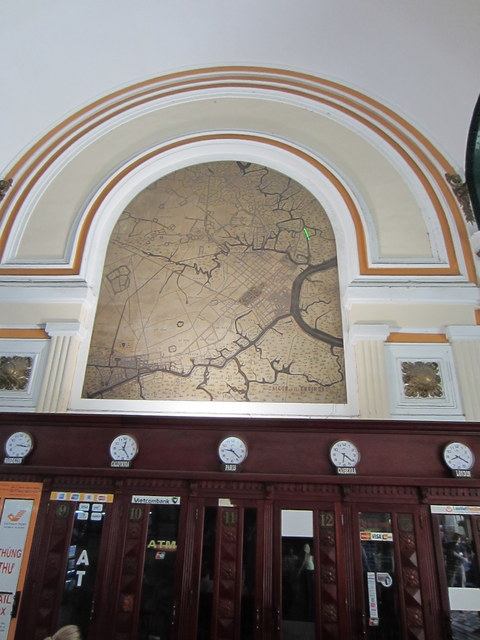 Unfortunately it was a baking hot day and the air quality was not great so I wasn't feeling amazing by the time I'd walked the couple km to my next destination. That combined with the coronavirus notices everywhere made the pagoda somewhat of a disappointment. I'm sure it's much more atmospheric when not covered in ugly printed notices and everyone wearing masks.
All things considered this called for a drink and it so happened that I wandered near one of Vietnam's explosion of craft breweries, this one called Heart of Darkness. I tried their delicious Kumquat Pale Ale first before trying a Mango cider from Hanoi out of their limited range. Both were phenomenal and left me feel much cooler, though sitting under a fan in their courtyard reading a book for a while as I drank helped too.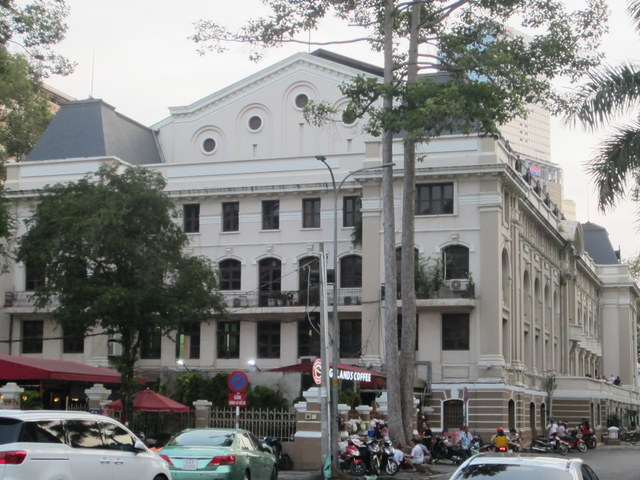 The rest of the day was spent wandering the streets of HCMC and just admiring the architecture, occasionally grabbing a seat and people watching and just generally trying to absorb some of the vibe of the city.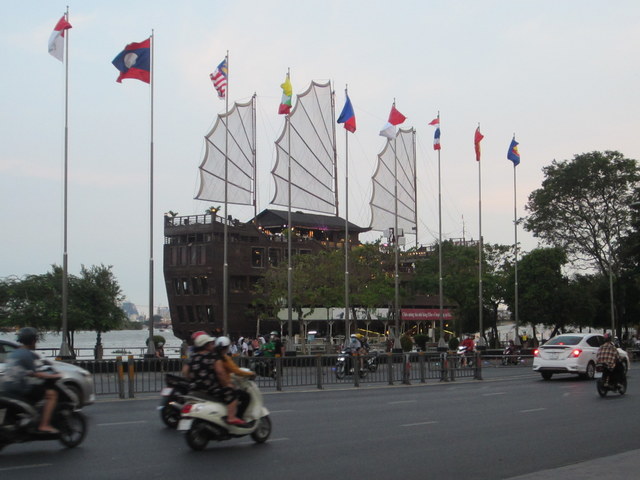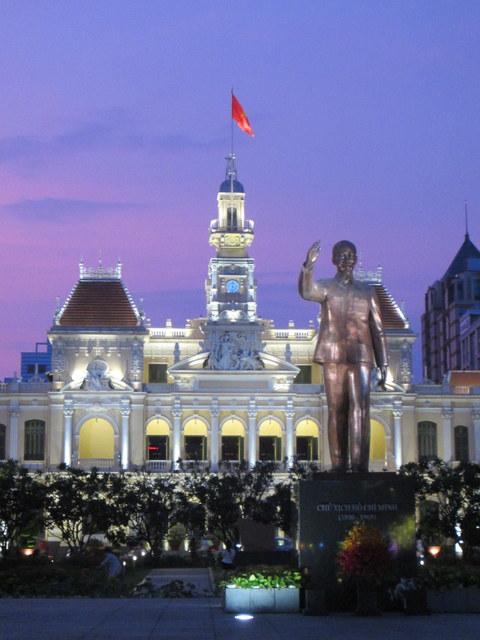 Dinner was at another beautiful courtyard restaurant, but this time the solo traveller next to me from Japan massively overordered and kept offering me some of his food so I got to try almost triple the dishes including some amazing duck, an absolutely flaming hot shrimp dish and a fried salt chicken wing. By the time I got back to the hotel around 11 I was stuffed and positively roasted.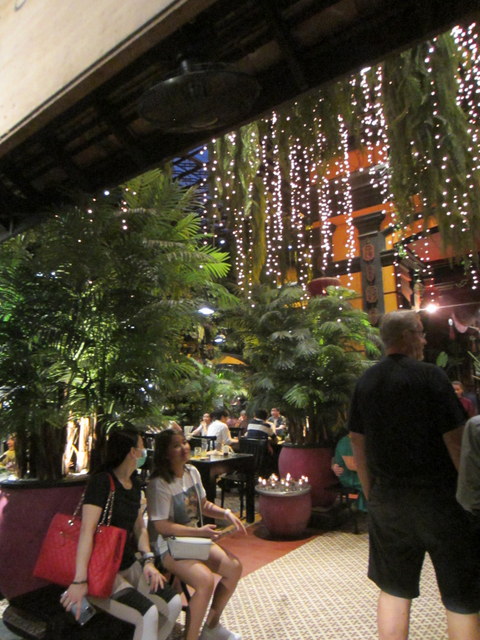 ---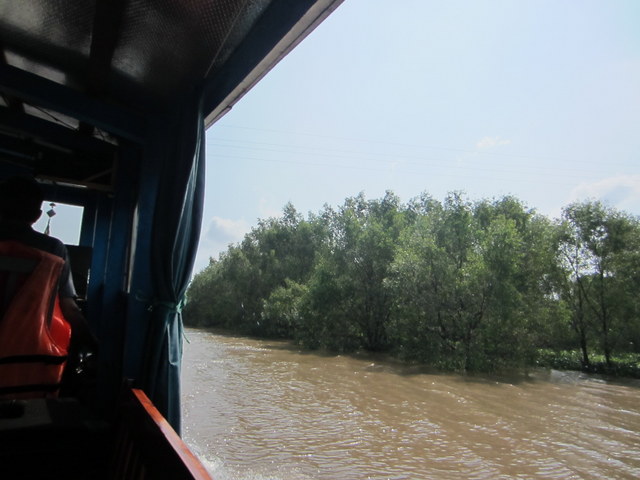 The Mekong Delta evokes different images to different people I've spoken to. For some it's that quintessential vietnamese image of rice paddies and flat bottomed boats, for others it's the Vietnam War movie scene of an American patrol boat out looking for VC down a muddy brown river. Even on a quick one day tour out of the city to the region I got a brief taste of just what a labyrinth of rivers the region is made up of. Islands are everywhere, most only accessibly by water, and most devoted to agriculture. Over half of Vietnam's rice is grown here, though 'here' is a pretty vast region made up of multiple provinces. We also got glimpses of small scale fish farms, coconut and fruit plantations and village level industry like coconut wood production, candy making and other things. Our guide told us that many of the vendors in Saigon drive out every morning to buy things from the villagers in order to resell in the city.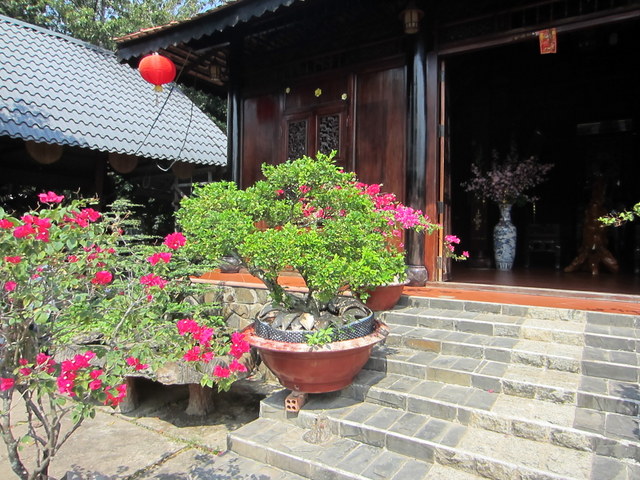 This being somewhat of a basic tour we were given many opportunities to buy lots of different things, but it was still an interesting window. Based on what I've read what we saw was not disimilar from what the rest of the delta is like, just that life gets even simpler the farther you get from HCMC or from the other major city in the delta area.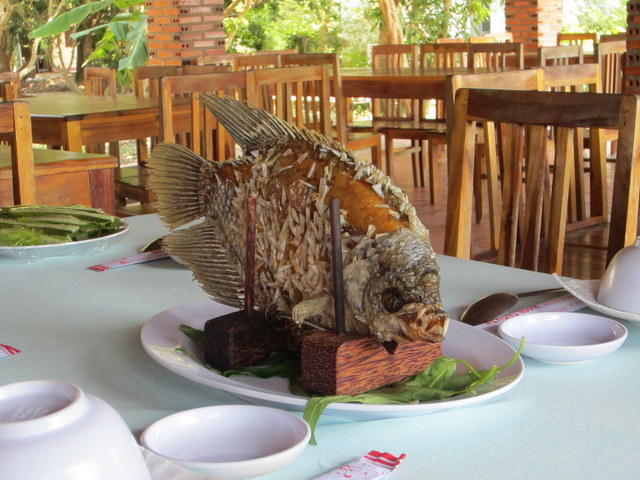 We did get an absolutely wonderful lunch and entertainment in the form of the young korean guy on our crew who was obviously terrified of dogs and who'd jump and run from the table when the most harmless looking little puppy got within 10 feet of him. This continued the rest of the day with the kid acting like any dog in distance was a cobra and backing into walls to avoid getting closer.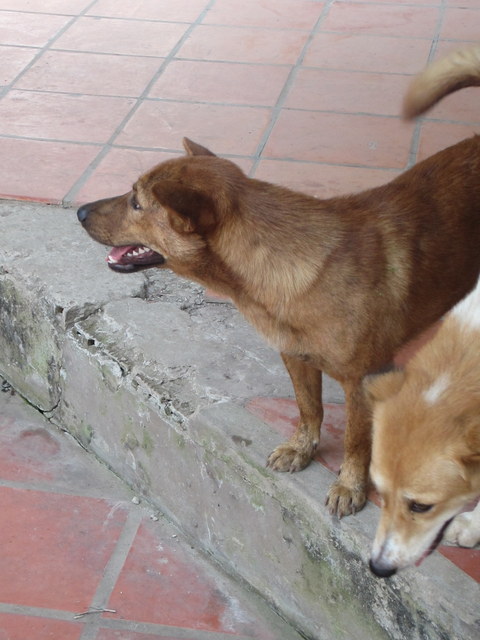 Overall the tour was so-so. It basically just whet my appetite to go back and do a more extensive one at some point as there are more involved tours that let you go out to the floating markets at convergence points in the delta as well as staying overnight in some of the outlying towns. Unfortunately for everyone who makes a living on the delta it's a really delicate ecosystem that is probably going to get absolutely slammed in the next decade or two. The entire area is barely above sea level and will get inundated if climate change predictions are even close to correct. Even if things turn out better than expected pretty much every country upstream of vietnam on this vast life giving river is planning some sort of hydroelectric project that is going to mess with the water table. Reading online it looks as though Cambodias giant waxing and waning lake that feeds half the country and Vietnam's ricebowl are both in serious danger as the hydrodynamics are very finely balanced.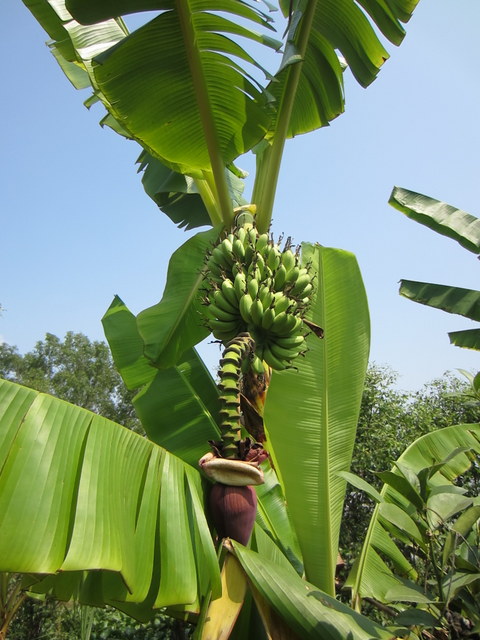 Back in HCMC a couple hours later I found myself craving something not Vietnamese so sought out what was supposedly an American bbq joint run by expats… only to find that it was closed for renos after a 30m walk, another 30m walk led to discovering the next place had closed permanently at which point it started to absolutely pour and I dove into the first place I saw that had a roof and tasty looking things (this of course being the first night I'd gone out without my backpack and raincoat.) Dinner was lovely but man had I been craving that brisket from the restaurant's website (you think you'd mention one of your two locations was closed for 3 months on your website but nope :p ) Thankfully there was a break in the rain about an hour later and I managed to scurry back to the area around my hotel and listen to a band for a while before bed.
The next morning I said goodbye to Ho Chi Minh City/Saigon and headed off to Phu Quoc Island to get a bit of beach time and some diving done.